Nitro Nation World Tour Worldwide Launch
---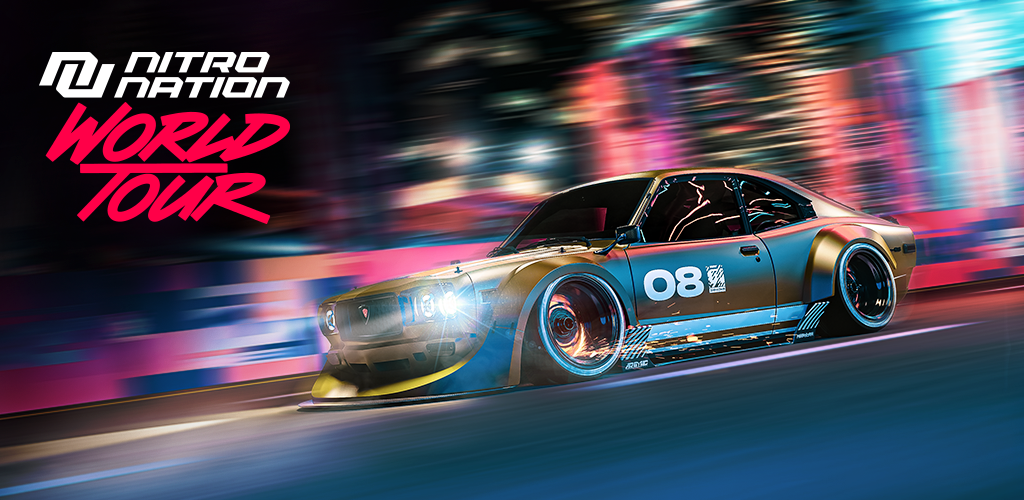 Hey Racers!
Nitro Nation World Tour is now available worldwide! It's time to race, earn, collect, and digitally own hundreds of fully licensed cars… so suit up and rev your engines!
Nitro Nation World Tour is now available for download in both Apple and Google for mobile devices.
Continue reading to find out information about:
McLaren in Nitro Nation World Tour
deadmau5 in Nitro Nation World Tour
Features Roadmap
Mythical Workshop Update
---
McLaren in Nitro Nation World Tour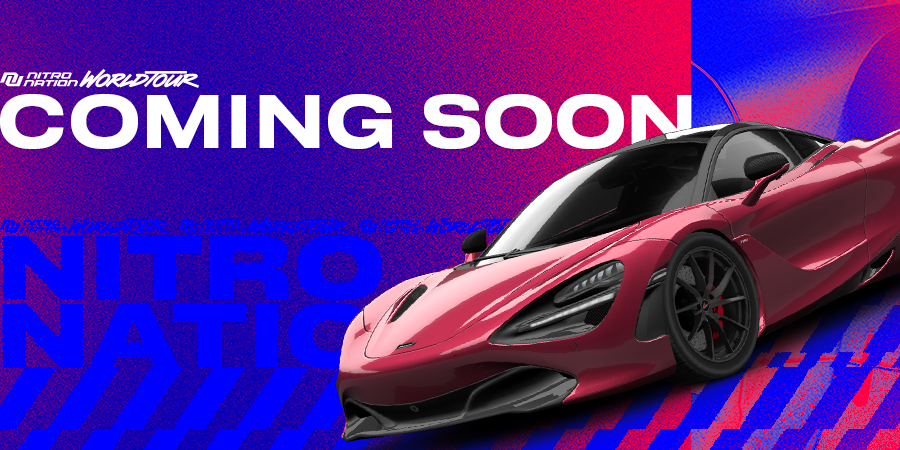 We're reaching new records and high speeds! We're thrilled to announce McLaren as our Season 1 headliner!
Your first chance at a McLaren Car is coming!  That's right - you'll be able to race in a McLaren!
Read our blogs to learn more about how Workshops and Cars function in game.
---
deadmau5 x Nitro Nation World Tour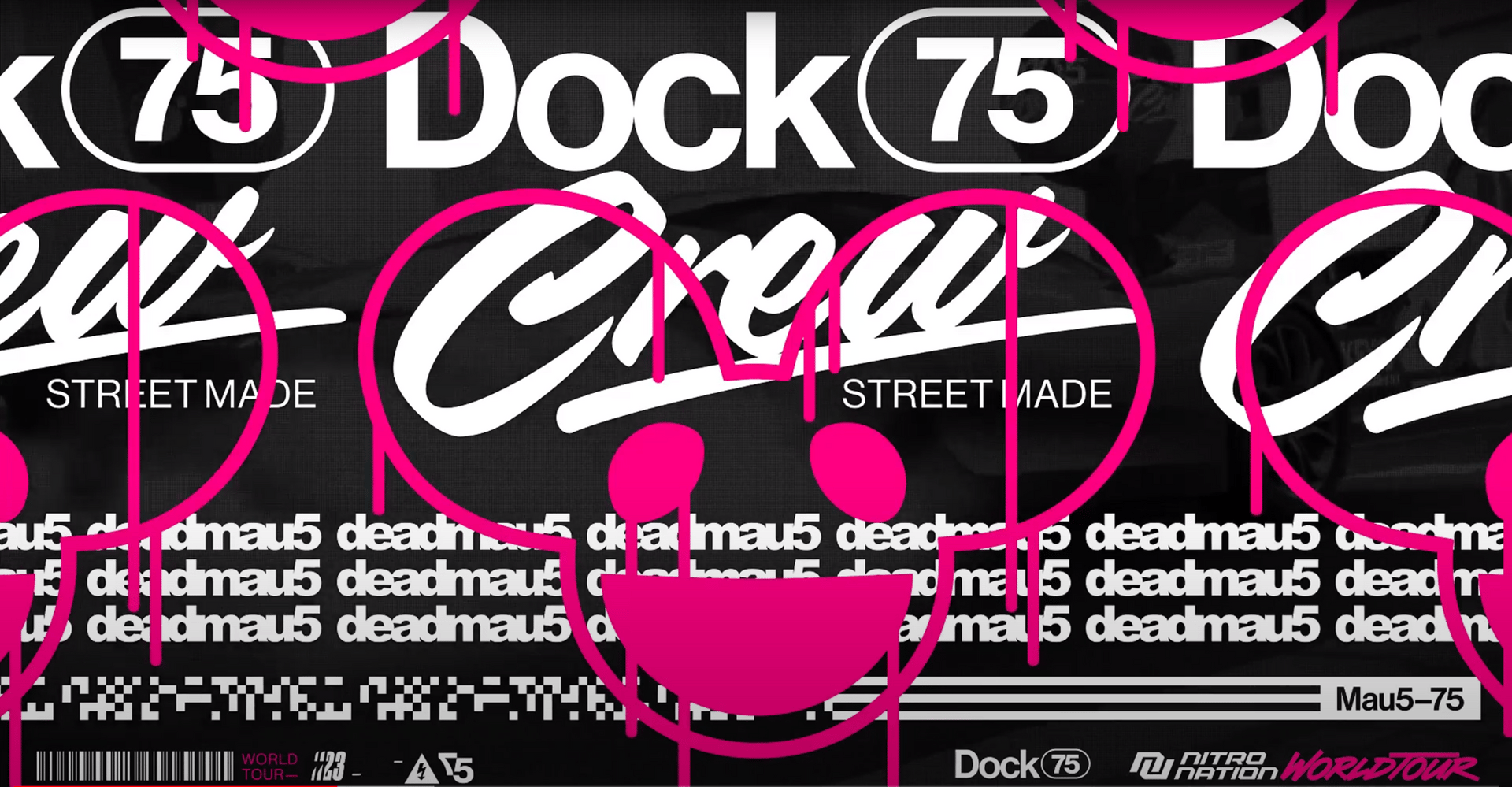 Our hearts and engines are racing as we're collaborating with world-renowned electronic musician and car enthusiast deadmau5 on the launch of the game in conjunction with his upcoming tour, starting on October 5th in Tokyo, Japan. As an official Nitro Nation World Tour partner, deadmau5 will be featured prominently in the first season of the in-game World Tour festival.
NNWT is sponsoring the upcoming 'Day of the deadmau5' tour.
Fans will be invited to take the NNWT Fast Lane to skip the line at the mau5hop popups.
Inside the popup, fans will be able to
purchase NNWT x deadmau5 collab merch
take photos with a branded NNWT mau5 head
take photos with a NNWT branded car
NNWT creative visuals will be included during the live show production
But that's not all – the stakes are higher than ever, as players will race for the chance to secure an exclusive in-game deadmau5-themed car, in an exclusive deadmau5-themed racing event, making it not just a race for the finish line, but a race for an incredible set of wheels.
Stay tuned for more details as we prepare to unleash this dynamic partnership!
Join our Discord community so you don't miss out on any important dates!
---
Features Roadmap
Take a peek at what we're racing towards out on the horizon!
Version 0.7.0 Season 1
Matchmaking, Stability Improvements, and Bug Fixes
Ghost Race Improvements
3 Unique Cars Included in New Starter Pack Offers
Push Notification Reminders
New Divisions Racing Mode with Leaderboards
Club UI and Management Enhancements
Version 0.8.0 Season 1 iterations
New Car Models
New Divisions Racing Tier
Ability to Earn Gear Coin
Daily upgrade currency bundles
Improved Car Reveal Animations
Additional Customization Options: Decals
New Track
Version 0.9.0 - Season 1 iterations
Live Ops Events
deadmau5 event
Car Certification
Car Performance Boosters
Improved Club Garage Experience
Additional Club and Workshop Management Tools
Weekly MissionsIf you have any questions or ideas on the game, race over to our Discord community and share your feedback.
---
Founders Edition Workshop Update
Reminder: All Founders Edition Workshop Levels are NOW OPEN.
Have you had your eyes on the Mythical Workshop? By purchasing 1 Workshop at all 4 Levels, you'll be airdropped 1 Founders Edition Mythical Workshop digital collectible directly in your Mythical Account. This is an exclusive reward for our most ride or die fans and will never be available after this first presale!
Workshops must have been purchased during our primary sale in order to be eligible for the airdrop. Secondary market Workshop purchases will not be eligible.
Racer who purchased 2 at each Level, you'll be airdropped 2 Mythical Workshops, and so on!
The Mythical Workshop airdrops have already started! Racers that qualify for a Mythical Workshop will be airdropped their Mythical Workshop into their Mythical Account. There will be a weekly Mythical Workshop airdrop to qualifying racers.
The higher the rarity, the greater the in-game benefits. But the rarest of them all is the Mythical Workshop. We'll let the stats speak for themselves.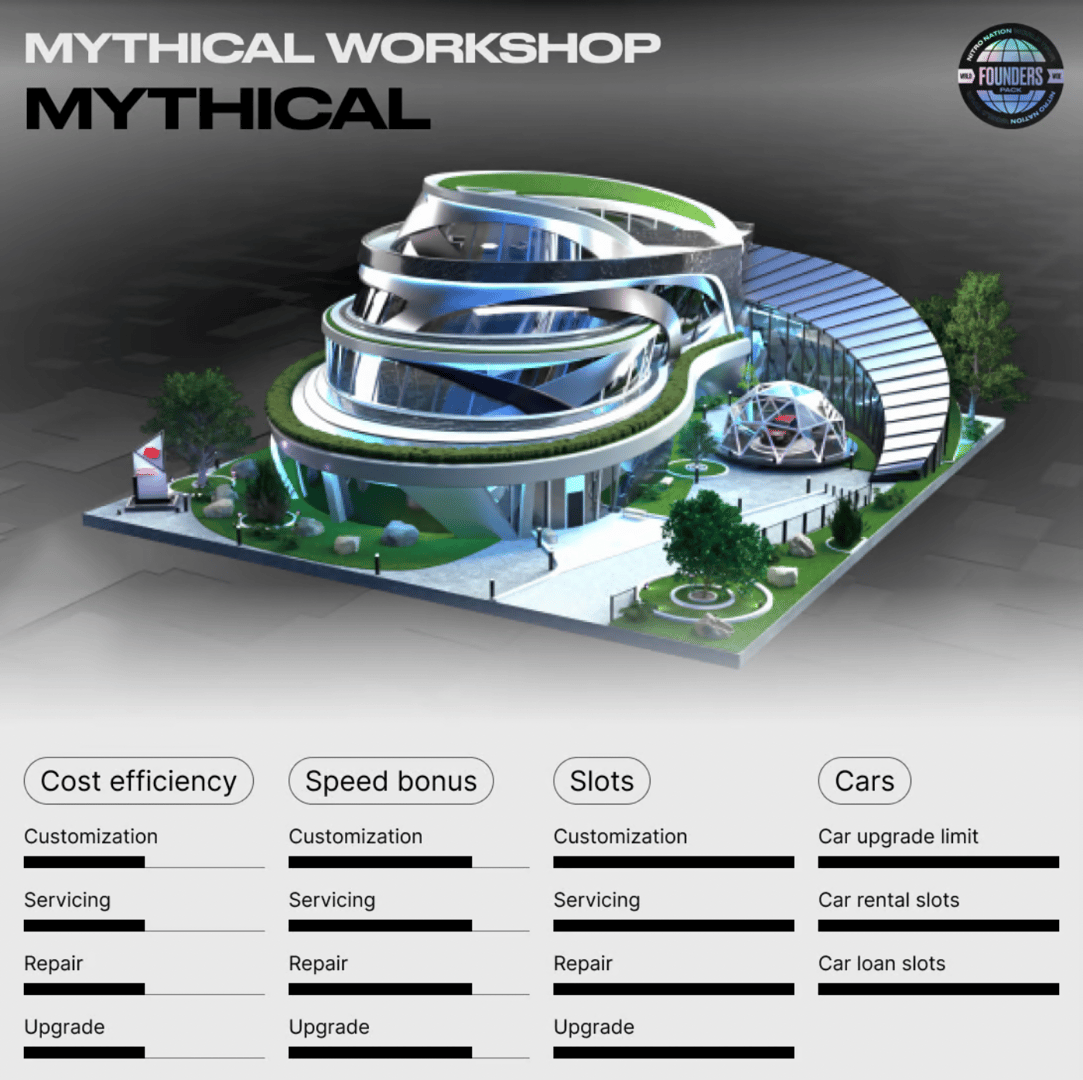 ---
We've got more exciting things coming and you don't want to miss the party! Join our Discord community to chat about the game, music, and of course… cars. Don't forget to follow us on Twitter, Instagram, Facebook, and Youtube.
Stay in the lead by creating your NNWT Mythical account and joining our newsletter!


---