Nitro Nation World Tour Closed Beta
---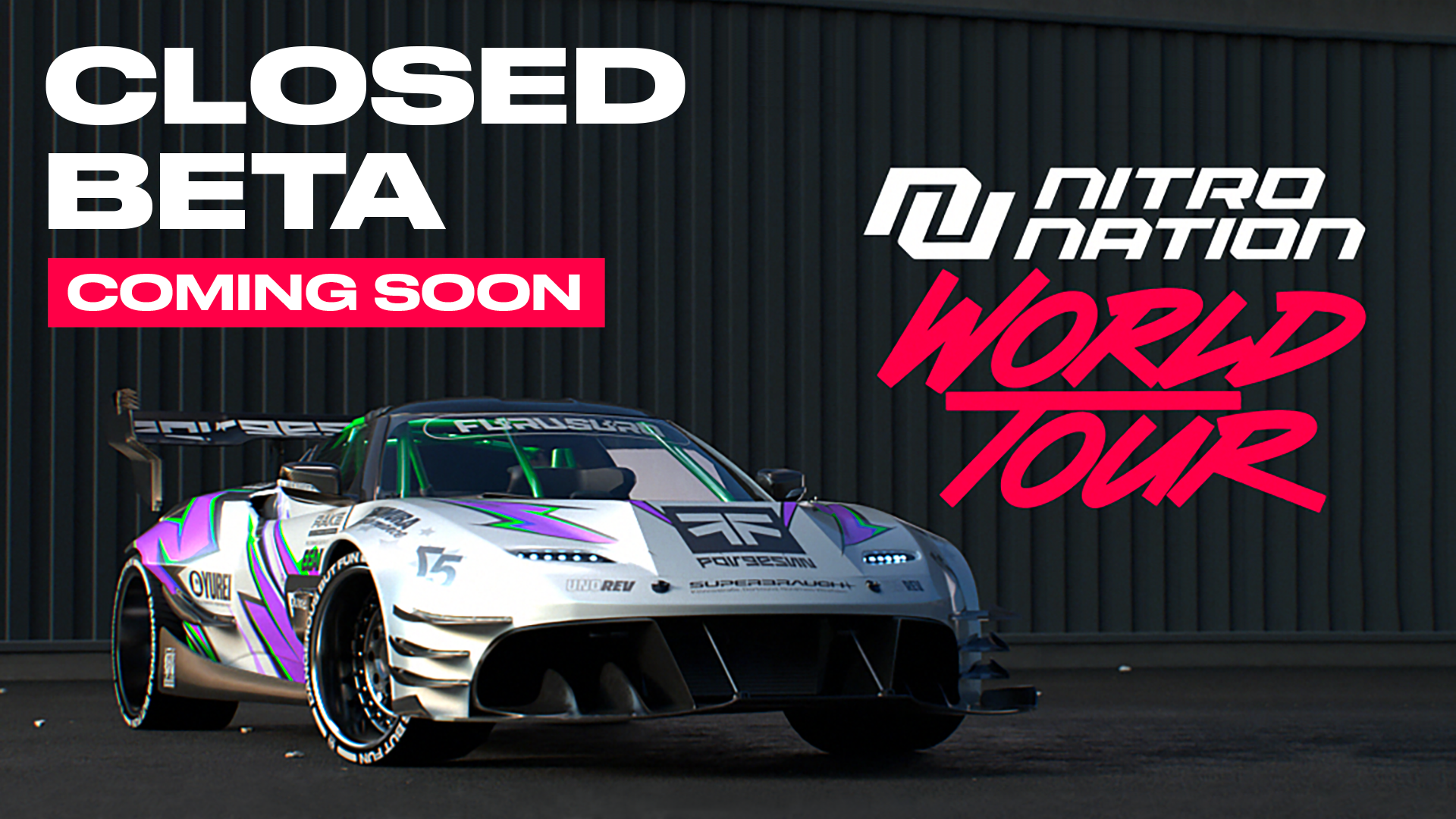 Hey Racers!
It's time to suit up! Our Closed Beta is coming soon. Continue reading to find out information about:
Closed Beta Access
Closed Beta Rewards
Features Roadmap
Founders Edition Workshops Update
---
Closed Beta Access
Please note this is a Closed Beta, so it is not available to the wider public. In order to join the Closed Beta and to get a head start on the competition, you'll need to purchase and own a Founders Edition Workshop or a Car from our Presale.
Read our blogs to learn more about Workshops and Cars.
---
Closed Beta Rewards
Being part of the Closed Beta comes with rewards! Each racer eligible for Closed Beta will receive 1 reward chest that contains the following:
25 credits
10 basic, 10 improved, 10 advanced, 10 expert, and 10 elite upgrade components
1 random stat boost
1 D tier car conversion certificate - Turning a non-NFT into an NFT
1 C tier car conversion certificate - Turning a non-NFT into an NFT
1 Car Wrap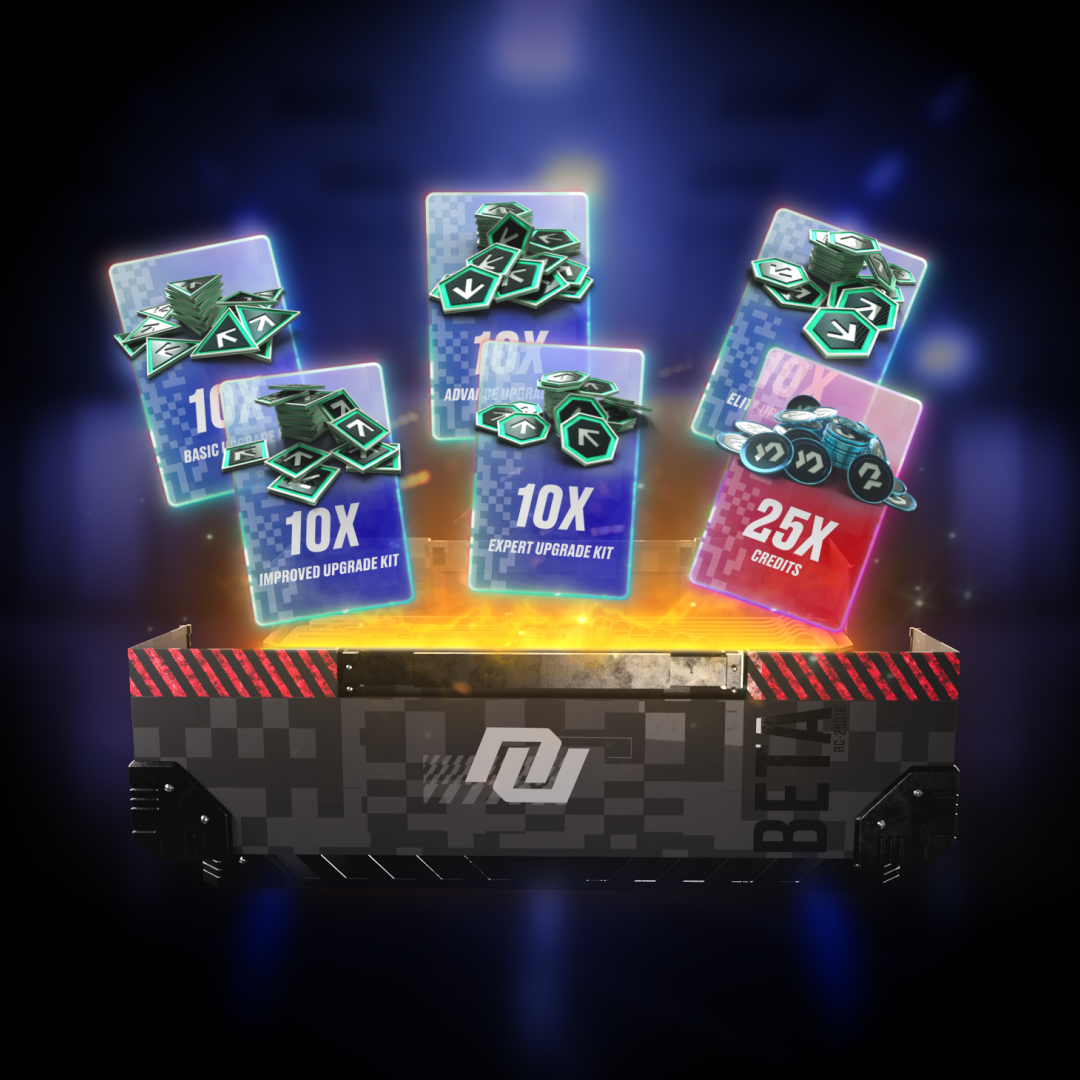 Wen, rewards? Some of these rewards will be available instantly, while a few of the others will start to drop into your account midway through Season 0 and Season 1. Join our Discord community so you don't miss out on any important dates!
Don't slack on the Closed Beta! We're only running it for a short period of time as we're already preparing for the next phase of the game launch.
---
Features Roadmap
The Closed Beta is meant for testing and breaking things. We're ready to get our Racer's feedback and optimize the game for launch day! In the meantime, here are some features to expect in the Closed Beta and beyond:
Version 0.5.0 NFT Cars - Closed Beta / Head Start
Bring your NFT Car and Workshop into the game
Upgrade, Service, and Customize your car
Play through the full Campaign
Create a club and equip your Workshop to it
Version 0.5.1 -  Season 0
Any progress made in Closed Beta will NOT be wiped for Season 0.
Purchase in-game currency packs
Version 0.6.0 Season 0 iterations
Workshops able to be equipped by non-Club owners
Upgrade your Club
Complete Daily Missions
Temporary boosts for your ride
VFX/UI Updates
Version 0.7.0 Season 0 iterations
Phase 1 of Club vs Club competitions
Ghost Race improvements
More temporary boosts for your ride
Ability to convert Standard Cars into NFTs
A new race track
Version 0.8.0 Season 1
New Tracks
Phase 2 of Club vs Club competitions
Improved car customization (decals, suspension, number plates)
Basic Seasonal Race Pass
Basic User Profile
Version 0.9.0 - Season 1 iterations
Enhanced Seasonal Race Pass
Live Events
Advanced User Profile
As Closed Beta and Season 0 begin, the team will be reactive to what we are seeing with our racers on the strip and may need to make adjustments to the sequencing of some of these features. Any updates will be communicated via our Discord. If you have any questions or ideas on the Closed Beta, race over to our Discord community and share your feedback.
---
Founders Edition Workshop Update
All Founders Edition Workshop Levels are NOW OPEN.
Have you had your eyes on the Mythical Workshop? By purchasing 1 Workshop at all 4 Levels, you'll be airdropped 1 Founders Edition Mythical Workshop digital collectible directly in your Mythical Account. This is an exclusive reward for our most ride or die fans and will never be available after this first presale!
Workshops must have been purchased during our primary sale in order to be eligible for the airdrop. Secondary market Workshop purchases will not be eligible.
Racer who purchased 2 at each Level, you'll be airdropped 2 Mythical Workshops, and so on!
As we move to 0.5.1 - Season 0, racers that qualify for a Mythical Workshop will be airdropped their Mythical Workshop into their Mythical Account. After the initial airdrop, there will be a weekly Mythical Workshop airdrop to qualifying racers.
The higher the rarity, the greater the in-game benefits. But the rarest of them all is the Mythical Workshop. We'll let the stats speak for themselves.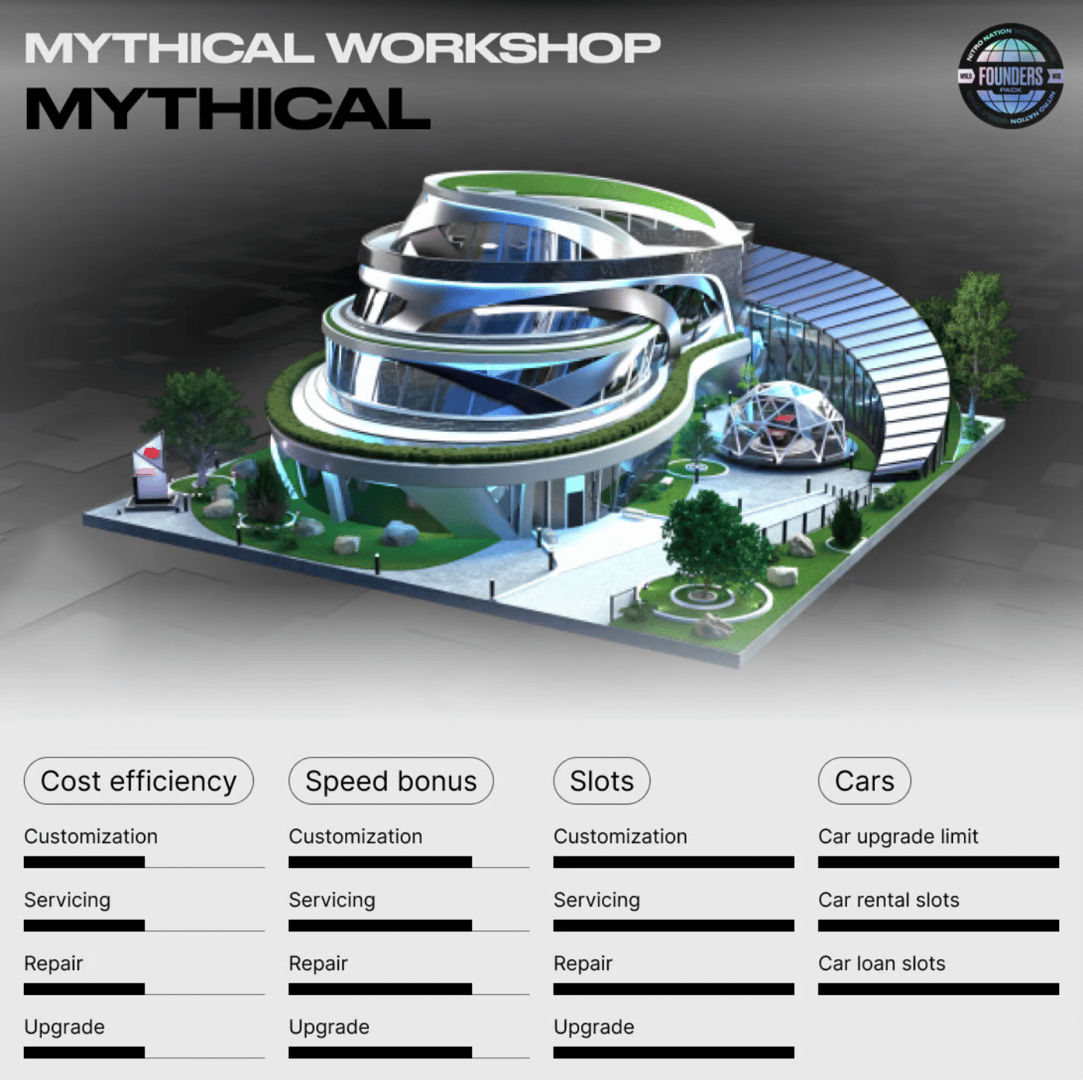 ---
We've got more exciting things coming and you don't want to miss the party! Join our Discord community to chat about the game, music, and of course… cars. Don't forget to follow us on Twitter, Instagram, Facebook, and Youtube.
Stay in the lead by creating your NNWT Mythical account and joining our newsletter!

---