Rarity League Holder's Benefits
---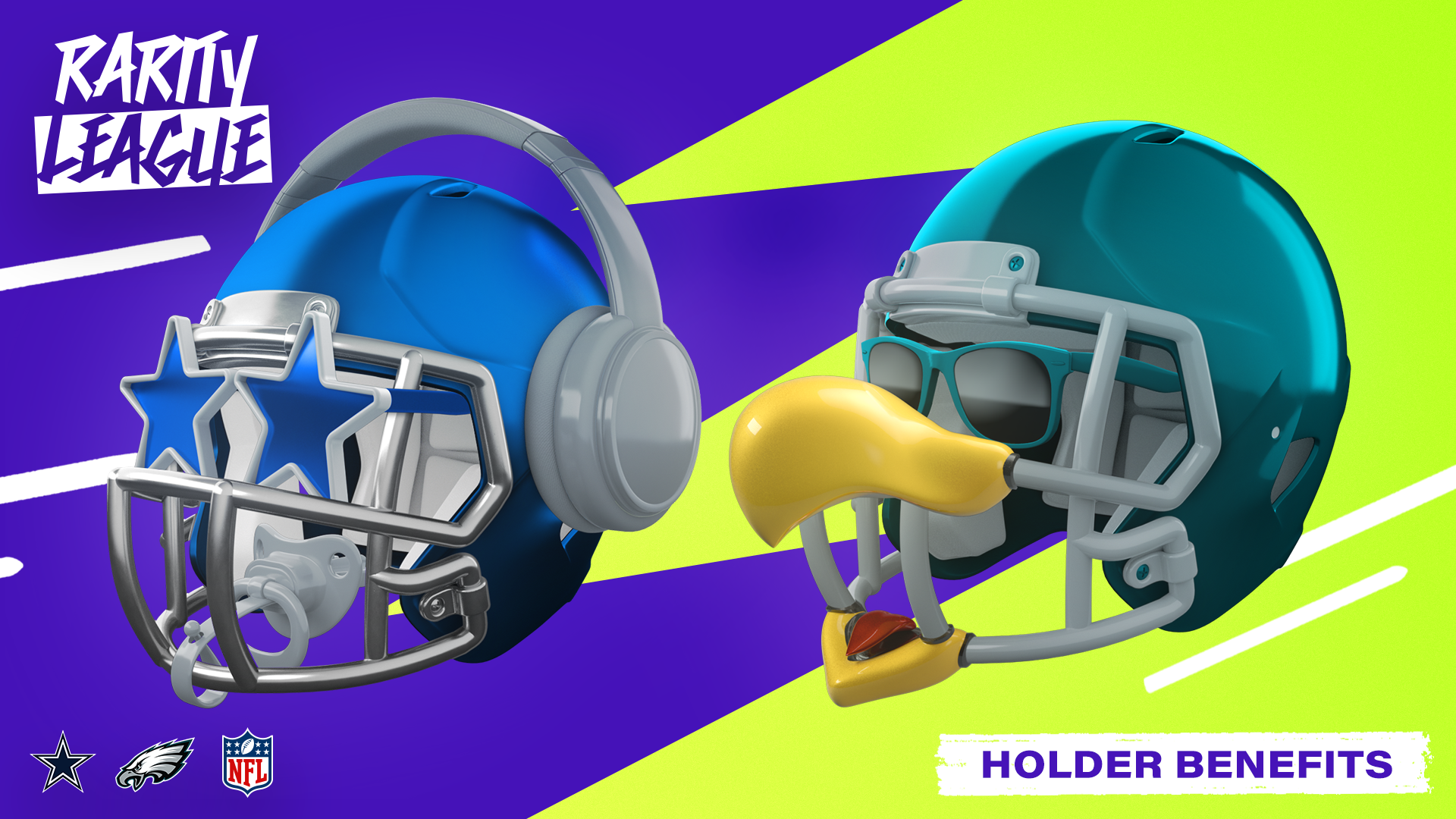 Attention, Rivals! Rarity League helmets are now available for purchase on the Rarity League site and you'll definitely want one if you're excited for the NFL Rivals game coming to your phones next year.
A little over 21,000 unique digital helmets have been released, based on 30 NFL teams across the NFC and AFC (we already dropped Rams and Bengals earlier this year). Every team's collection of helmets are built on the culture of the teams and their fans, with nods to some of the unique and fun things that fans do to celebrate their teams, like wearing watermelons on their heads to home games!
Even better, NFL Rivals is adopting the helmets in the game, so benefits can only be enjoyed when they're linked up. Each Rarity League helmet owner is receiving special perks that can't be accessed by anyone else, so take a gander at this list and see if a Rarity League helmet is right for you!
Guild Ownership
Want a taste of life as a general manager? Holding a Rarity League helmet gives you the chance to start and run your own Guild in NFL Rivals, which are squads of players who team up to pool their points for the Guilds Leaderboard and the prizes that come out of those competitions. Owners can set their Guilds to public or private, oversee the chat, manage the members, or appoint another member to run the Guild on their behalf.
Private Beta
The game is set to launch next year, but your thumbs could probably use some training in advance. We've officially launched a private beta for Rarity League holders and Mythical staff so we can see what's making the game fun, make sure the game runs at 100%, and get a head start on everyone in calling and running our plays.
Early Access to Player Card Presales
The surefire way to build a killer lineup is to get your hands on the digital player cards dropping in a presale early next year. If you hold a Rarity League helmet, you'll have the chance to buy your player cards up to 24 hours before everyone else can put their mitts on them. These cards will be a key part of playing NFL Rivals. Please note that the player cards bought in the presale will not be available in the beta.
Exclusive In-Game Tournaments
Are you ready to talk smack with your fellow superfans and take them down a peg? After NFL Rivals launches next year, we'll begin hosting tournaments with amazing prizes for our Rarity League holders. What kinds of prizes, you ask? We can't say yet, but you're going to love them and the bragging rights you'll have over your fellow players.
So, Rivals, what's not to love? Get your Rarity League helmet today and start enjoying the perks of ownership in the ultimate football game experience!
---