NFL Rivals Private Beta Is Now Live
---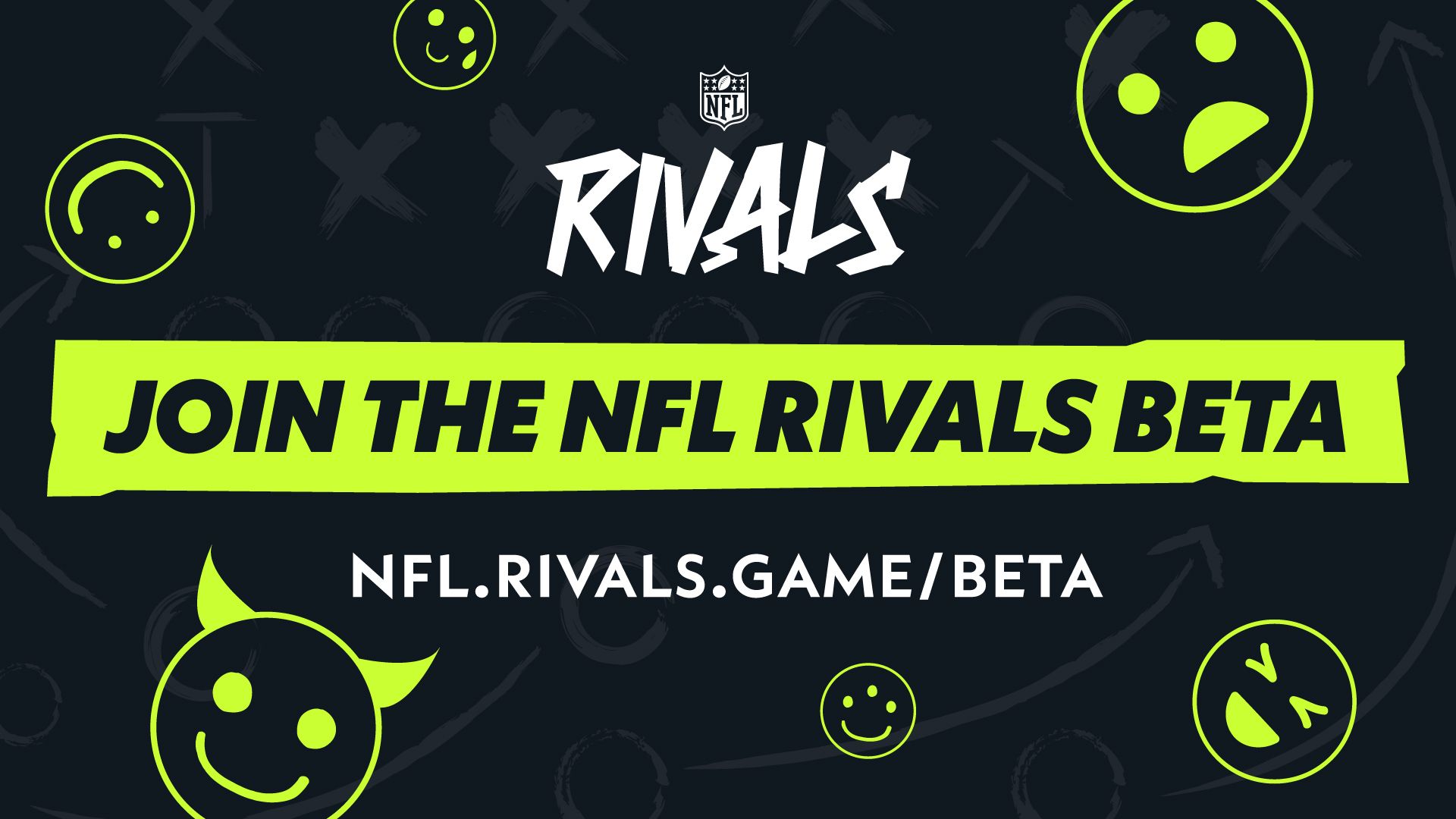 It's been a long road, Rivals, but we're almost to the halftime show on the game development team.
THAT'S RIGHT, IT'S TIME FOR THE BETA!
The NFL Rivals closed beta is officially live and in the wild, so don't miss out on your chance to experience the life of a general manager, some fun arcade-style antics, and the pure thrill of winning on the go!
We're out past the end zone with excitement over this new phase in the development of NFL Rivals because it means we finally get to share what we're building with the community of Rarity League holders and hear your feedback on what you (hopefully) love most about the game.
A Tight Roster
Please note that this is a closed beta, so it is not available to the wider public. In order to join the beta and start training up for the full game launch next year, you'll need to purchase a Rarity League helmet from the Rarity League site.
Now, each of those Rarity League holders get to experience life as a Guild Owner, but we need to ensure they have people in those Guilds to boss around so Mythical Games staff and our dear friends will also be invited to join the closed beta. All non-holders will be directed to join Guilds to help maximize the fun and simulate the authentic NFL Rivals experience.
Game Time
Kickoff with the NFL Rivals beta starts at https://nfl.rivals.game/beta, effective TK. If you purchased your Rarity League helmet using a credit card, you must use the same email address to create a Mythical account as the one you used for your Rarity League purchase.
Once you're on the beta site, please follow the flow for creating your Mythical account or logging in to your existing one. Then you'll either see a previously connected wallet or be asked to link a new one. Add your wallet and sign the verification request as needed and confirm that you're seeing the correct amount of helmets in your connected wallet(s).
If you're not seeing accurate information, please contact the support team and they'll help you track down your helmets and get them in place for your Mythical account.
Finally, select the operating system (Android or iOS) you want to play the beta with and an email will be sent within 24 hours with the install instructions so you can hit the field.
Don't slack on the beta though! We're only running it for about 6 weeks as we're closing up shop around mid-January to prepare for the next phase of the game launch.
Beta Playbook
Please remember that this is a beta meant for testing and breaking things, so we're rolling out most of the NFL Rivals experience to get your feedback and optimize for the best game possible come launch day. In the meantime, here are some key pieces to expect in the game beta:
Main Gameplay: Offense-only with an arcade-style lineup of 9 players, with 3 plays to call (long pass, short pass, run it), pass the ball using an intuitive "slingshot" mechanic, and run your plays to the down or the endzone.
Player Cards: We've included almost 200 players in the beta's "base set" for you to break in. Please note none of these cards are backed by NFTs. Each player has 25 attributes that add up to an overall "Power" rating and, based primarily on that rating, the cards are sorted into 4 rarity tiers.
Team Lineup: Set your offensive and defensive lineups — 9 players each — and don't forget the kicker! You can view your players on the "bench" or in your inventory.
Solo Campaign: This will be the main gameplay experience for the beta, in which you can play a full NFL schedule, race for the playoffs, track your team's stats, compete for standing on the leaderboard, and get the deets on your rewards.
Events: This is an asynchronous multiplayer mode, in which we'll run a few "events" during the beta phase. One of those events will be gated to Rarity League holders. (BTW: "Events" as a name for this mode is still a work in progress and may change during the beta.)
Leaderboard: There will be a universal in-game leaderboard tracking your total points collected from the solo campaign and events modes and placing you in the ranking based on your score.
Guilds: Rarity League holders are all entitled to claim their Guild and explore how they work. While we won't have any active events for Guilds running during the beta, you will be able to search through all the open Guilds and join them as ordinary members if you want. We'll also have a point system for Guild members, so the Guilds can stack up against each other on a leaderboard. Since the majority of beta players will qualify for Guild ownership, not every Guild will have an active roster of members playing the game. (BTW: "Guilds" as a name is also a work in progress and may change during or after the beta.)
Store & Packs: The Rivals Store will be open, but limited to just a few packs in the store, no NFTs, and purchases can only be made using the in-game currency earned from playing and racking up points. No credit cards needed!
Exchange Store: This storefront will be limited to only a few static offerings but the overall functionality is in place. Also, the currency needed to 'buy' things in the Exchange Store for beta can only be earned via Guild rewards (still working on the name, too).
As we said before, this is a beta and there will be a few pieces missing from the total game experience:
New Player Onboarding Flow: While there will be a tutorial for the main gameplay, we don't have a guided tour for the rest of the game. Go explore and tell us what you think, warts and all.
Player Upgrades: Love your players as they come because we won't have upgrades supported for the beta.
NFTs: While we will be recognizing our Rarity League holders and offering in-game benefits to them, there will be no other NFTs available for use or purchase in the game.
We hope you're as excited for this new chapter in the development of NFL Rivals as we are! You might see some surveys pop up in the app, so please please please fill those out so we can make the game even better for you and everyone else. If you have any other thoughts, questions, or ideas on the game beta, swing over to the Discord community and share your feedback anytime.
Helmets on, Rivals, and let's hit that gridiron together!
---