Early Access: Hustle & Glow Party Pass drops August 25th
---
One of the most exciting things we've seen in Early Access is our players unlocking the very first play-to-earn NFTs through the Party Pass. We've learned so much from these first two Party Passes and we're excited to evolve the immersive progression to add more value to your gameplay experiences.
We're excited to announce our next Party Pass: Early Access: Hustle and Glow. This Party Pass will have 7 play-to-earn NFTs available to unlock, just by playing the game! There will be 6 new accessories and 1 new Blanko to earn. The Hustle and Glow Party Pass is dropping into the game with our next patch on Wednesday August 25th at 10 a.m. PDT / 1 p.m. EDT / 17:00 UTC and will run until October 6th at 10 a.m. PDT / 1 p.m. EDT / 17:00 UTC.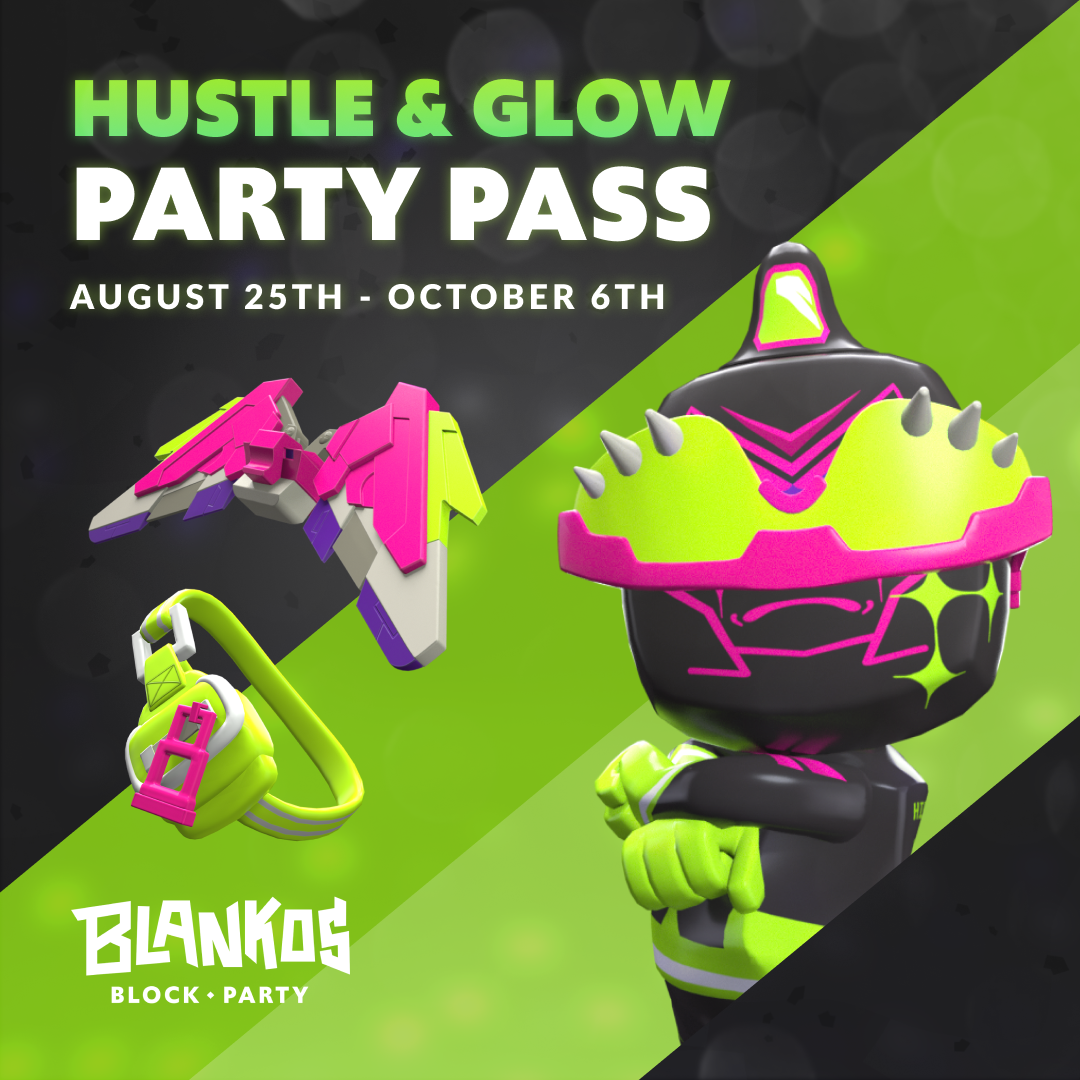 Since the current Pass ends August 24th at 2 a.m. PDT / 5 a.m. EDT / 9:00 UTC, this does mean that there will be a small period between Party Passes where there will not be any Hype Points to earn. But this does allow us to align the Party Pass with the next patch.
Season 0 Update
We've learned a ton from your feedback since launching Early Access. We've heard your requests for more content, better playlists, and more social features. In the last few months, we've dug into this feedback, and we've been expanding the development team with a ton of new hires to help us meet those asks. We've looked at the roadmap, at what we want to accomplish long-term, and we are going to be making some big changes in the coming months.
All of this means that we're taking additional time in this Season 0 phase to develop the game further. Moving forward, we'll still be in Season 0 Early Access, but you will still be getting fresh new content from patches and Party Passes.
We don't feel like we're quite ready yet to be at a stage where we can call our game "Season 1", but as we continue development, we'll be giving you a lot more insight into our process as we peel back the curtain on the roadmap and share more of what's to come.
Special Gift!
As a thank you for playing Blankos Block Party and supporting us through this first phase of Early Access testing, we're dropping some goodies! Blankos wouldn't be here without your feedback and your passion. Anyone who logged into Blankos between June 2 and August 3 at 2 a.m. PDT / 5 a.m. EDT / 9 a.m. UTC will receive the following before the release of our next Party Pass:
5000 Moola
10x 2,000 XP Chips
2 Gumballs - Rainbow and Sunnay

As always, thank you all so much for your support for Blankos and for playing a part in breaking records with some of our NFT drops; what we're doing and building together is historic! Thank you all for playing, chatting in discord and being a part of our amazing community.
---