---
The Block Parties that we have already seen from the community in a week of Open Beta has blown us away. Your creativity, playful creations, and well thought out level designs have exceeded our expectations.
To celebrate our builders, we are hosting a Winter Build Challenge! This challenge is focused on designing a winter wonderland, celebrating winter in all its glory. You'll have until January 10th to build your masterpiece, so get to building!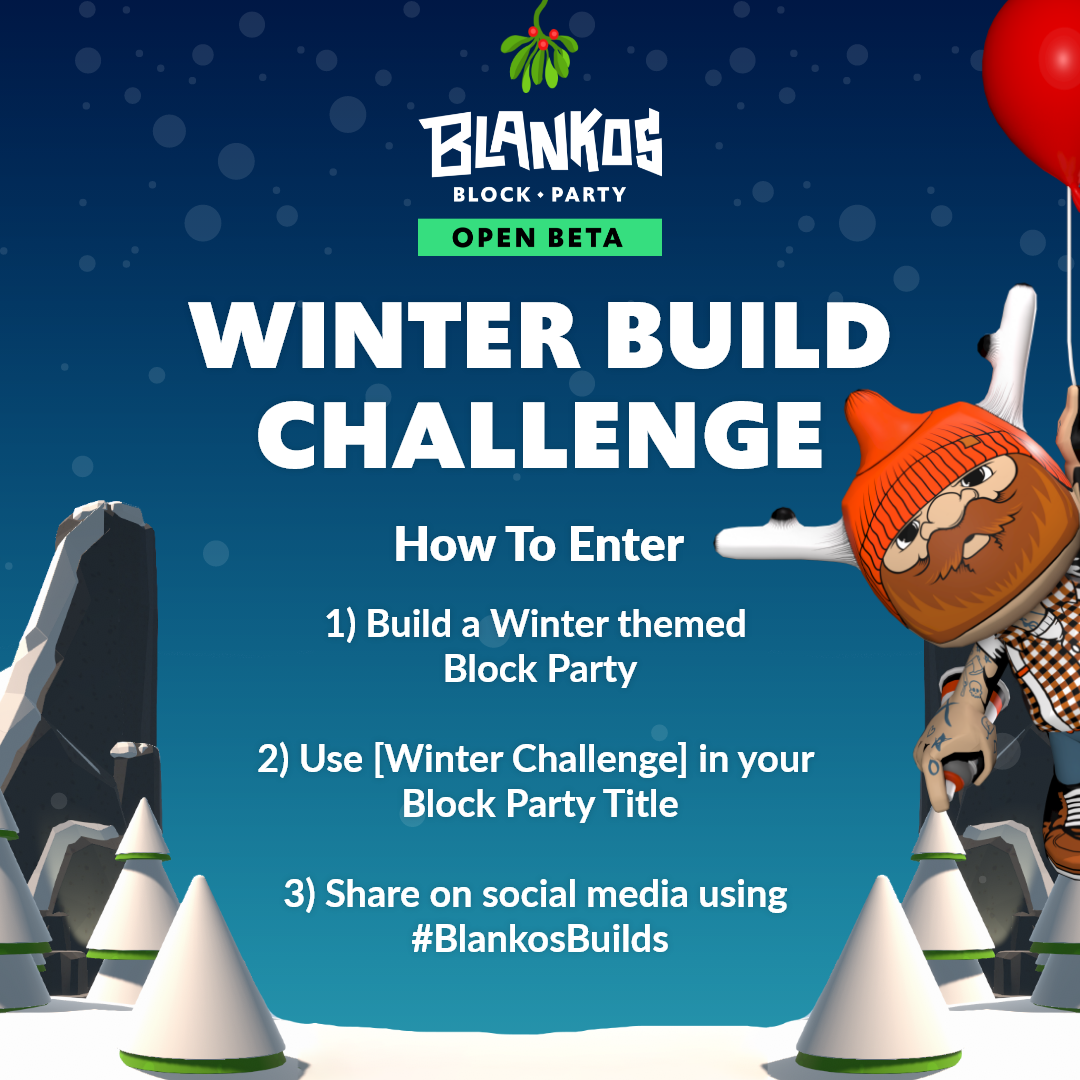 How to enter:
Build a winter themed Block Party
Add [Winter Challenge] in the title of your Block Party
Share on social media using #BlankosBuilds and in the Discord Server
What do winners get?
Top 5 Winners: Featured in-game and the 4 holiday accessories.
Best Block in Show: Everything above plus 5000 Blanko Bucks.
We will be selecting an overall winner. The Best Block in Show will have taken time to build incredible artistic designs, have intuitive level design, and will have taken the time to really wow players.
How does Judging work?
Judging of the submissions will be lead by our level design team and a few others in Mythical. But we will take a look at which map is being talked about a lot from the community in discord and on #BlankosBuilds
Judging Criteria
Did the nail they theme? First and foremost, you gotta nail the brief.
Basics:

Can you complete it?
Is the difficulty well balanced for all skill levels and Blanko abilities?
How much detail was put into the game settings and things like checkpoints, ammo placement, vibe placement.

Artistic design

Use of color
Use of props
Use of interactives
Combination of elements like lighting

Fun Factor

It's gotta be fun
We're looking for small to medium Block parties, completed in under 5 minutes. But don't hold back! If you have a cool idea, go for it.
Need some tips? Check out our Top 5 Build Tips to get started!
Rules and regulations:
No purchase necessary.  Void where prohibited.  Judging shall be determined by Mythical, Inc. in its sole and exclusive discretion and contest winner selection shall be determined final.
---