SECRET TEQ63 Drops April 27th - 900 Available Only
---
The war for civilization's fate has reached a tipping point. TEQ63's allies have been pinned down by the machines—their shelter, an abandoned factory where the enemy once created soldiers.
It's here the heroes will make their last stand, for the factory holds a SECRET. Using the machine's cybernetic tech, the heroes have developed a new weapon, that when wielded by TEQ63, promises to turn the tide in their favor.
Are you ready to harness the powers of SECRET TEQ63?
SECRET TEQ63 by Quiccs is set to infiltrate the Junction! Get ready to harness the powers of this Blanko. SECRET TEQ63 from Quiccs drops April 27th at 3 PM PDT / 22:00 UTC in the Shop and in-game.
SECRET TEQ63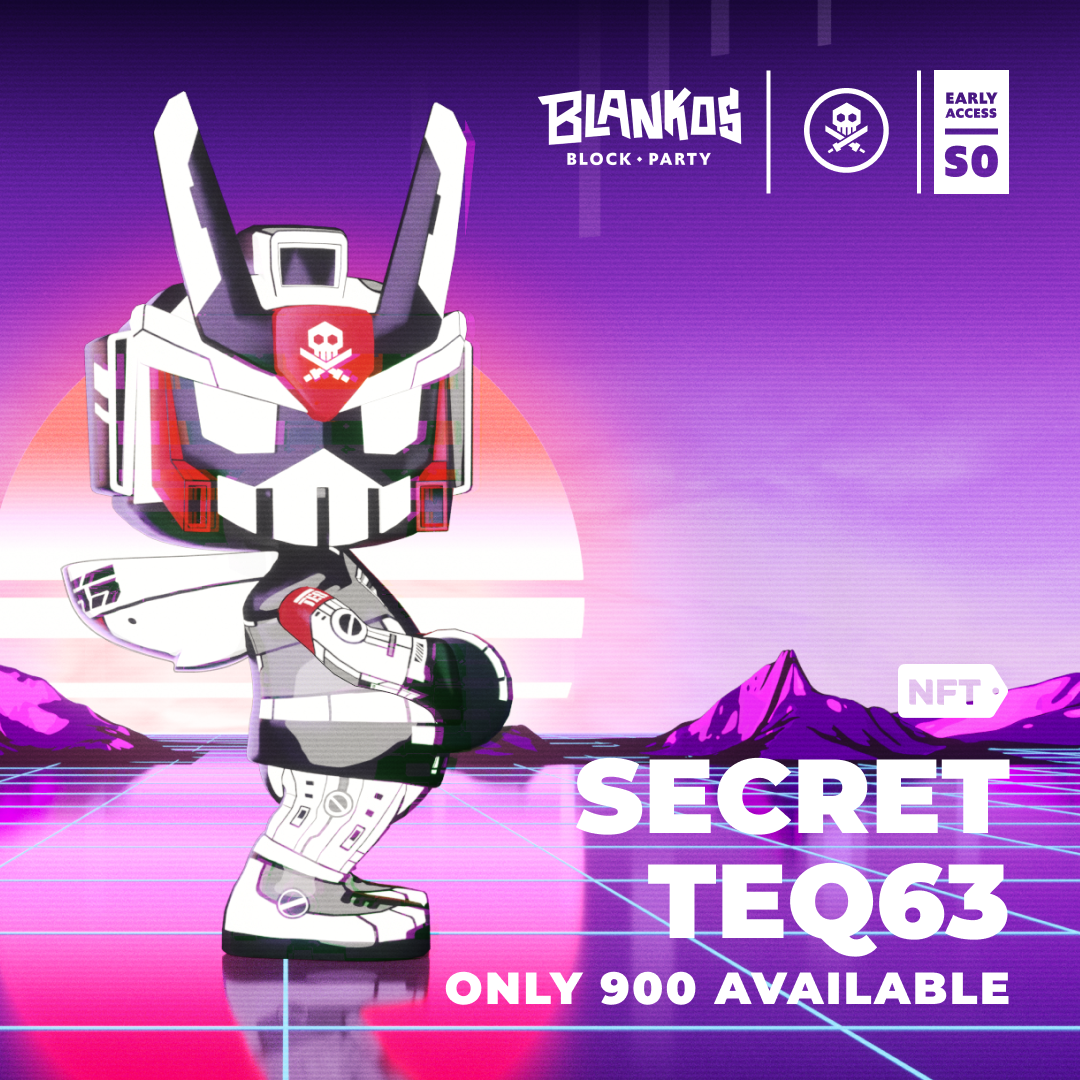 This Blanko will be available on April 27th at 3 PM PDT / 22:00 UTC for the price of $224.99 or 22500 Blanko Bucks. This Blanko will be limited to 900 mints. After this Blanko reaches the supply limit, it will be frozen, meaning that this Blanko will no longer be available for purchase through the Shop or in-game. Like the previous TEQ63 [GHOST WHITE] and TEQ63 [OG BLACK], this Blanko's accessories, Helmet, Hoodie, and Pocket, are locked and cannot be unequipped.
SECRET TEQ63 is NOT MashUp compatible.
*THERE WILL BE A CART LIMIT OF 4 BLANKOS PER PURCHASE. THERE IS NO LIMIT ASSOCIATED WITH HOW MANY BLANKOS CAN BE OWNED PER ACCOUNT.
---