Stack Your Bench with NFL Rivals Player Cards
---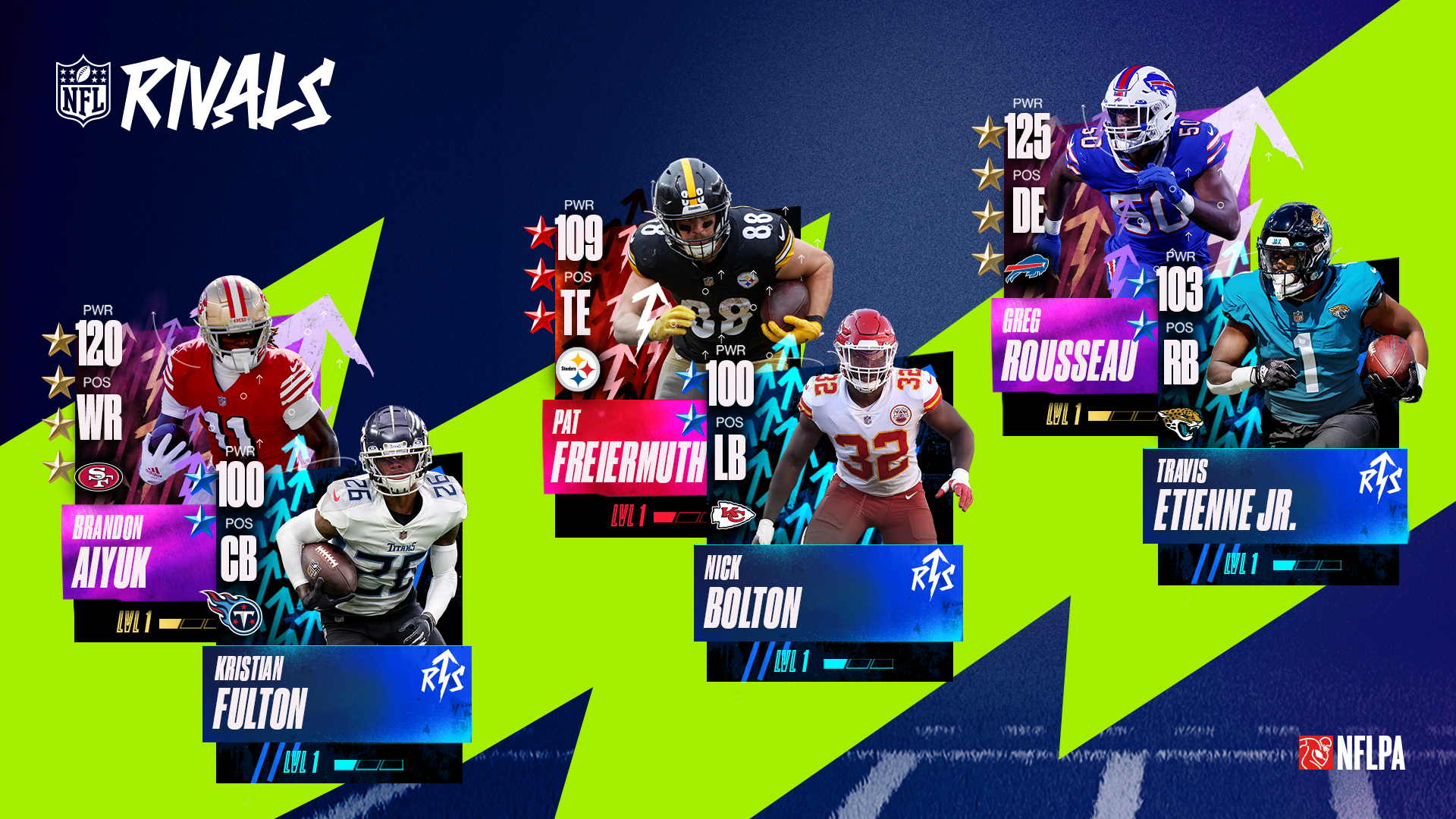 Rivals, an exciting new phase of the game launch is upon us. Very soon, you'll be able to start building the most stacked bench imaginable for your team on NFL Rivals.
You thinking what we're thinking? Yup, our digital Player Cards are coming very soon!
Rarity League holders who purchased enough helmets to receive the Collector's Perk Tokens several weeks ago were able to redeem those tokens for the Founder's Edition Pack.
Now, as we've entered the new year, the NFL Rivals team is proud to announce that soon anyone and everyone will be able to get their hands on their very own Player Cards in the upcoming presale on January 27.
What Are Player Cards?
Player Cards are the pieces of the game you need to build your personal lineup on NFL Rivals. Some cards will be backed by NFTs and made tradeable on the Mythical Marketplace, while others will be in-game rewards not backed by NFTs.
Each Player Card will be composed of the same pieces: player identifiers, power rating, rarity, level meter, and a stamp.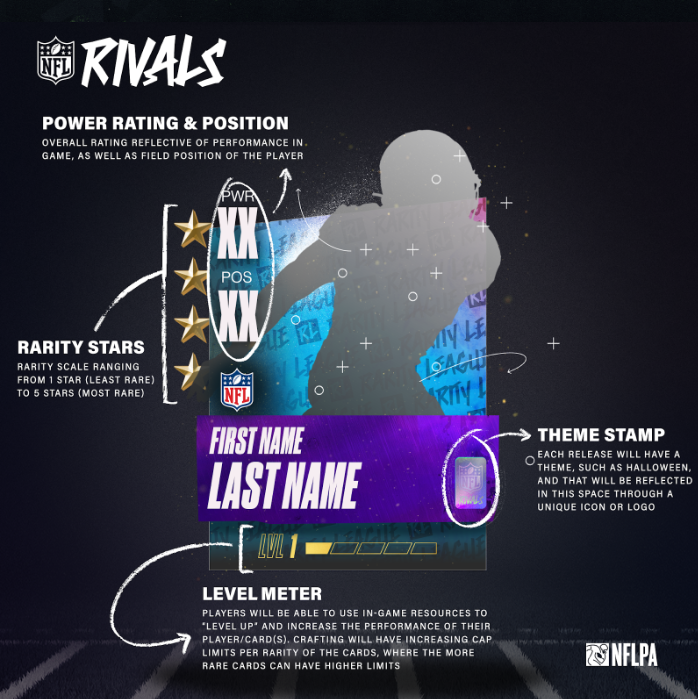 Player identifiers
You'll see the player's name, team affiliation, and an officially licensed photo of the player on every Player Card. Got a favorite player? You'll be able to find them, no problem.
Power rating
This score is an amalgamation of real statistics derived from the players, data like strength, speed, and twenty-four other variables rolled up into a definitive number that tells you how any given Player Card will perform on your team.
Rarity
There are five levels of rarity to the Player Cards: Common, Rare, Epic, Legendary, and Mythical. The higher the rarity, the higher the potential power rating of the card. Note: Mythical cards will be extremely rare and not generally available for sale as with the other rarities.
Level meter
Every Player Card can be upgraded and the level meter can be filled using in-game resources received via playing. Sometimes cards can be upgraded by bigger "rank up" moments, which require more resources and have a higher track for improving the power rating.
Stamp
Based on when and how the card was issued, Player Cards all have stamps that speak to their origins, whether during a holiday event like Halloween or something tied to the NFL season, like Kickoff or the Super Bowl.
Ownership of these Player Cards make your team more powerful on the Rivals field and improve your chances of winning games, climbing the leaderboard, and winning exclusive NFT-backed rewards, which can eventually be traded on the Mythical Marketplace.
How to Obtain Player Cards
The first batch of Player Cards were claimed last month by the Rarity League holders who qualified for and redeemed their Collector's Perk Tokens for the Founder's Edition Pack.
Now, the next way to collect Player Cards is through the upcoming presale on January 27. Rarity League holders can access the presale 24 hours in advance of the public on January 26 with their Mythical accounts.
The presale will feature 20 young NFL players in our "Rising Stars" set, players who we think have the potential to change the game in the years to come. Players on the presale roster include Greg Rousseau, Brandon Aiyuk, Pat Freiermuth, Travis Etienne Jr, Nick Bolton, and Kristian Fulton.
Player Cards will be sold in packs of three, with the potential to have common, rare, epic, or legendary players.
B-B-B-B-Bonus!
Gamers participating for the first time in the presale will also earn a bonus NFL Rivals starter bundle worth $20, which will include an NFT-backed player card, two non-NFT player cards, and NFL Rivals in-game resources, and be redeemable upon the full release of the game. This first presale phase will include up to 1,000 packs for $49 each.
During this phase, we will be releasing a grand total of 3,200 player cards, with 2020 of them made available for free to all Rarity League holders as a bonus benefit to celebrate the new year and the new player cards. We'll also reserve 180 of the player cards for marketing, giveaways, and partnerships.
Out of the 1,000 going on sale, we will be queuing up 500 for the 24-hour early access period so Rarity League holders can get a first bite at the presale. Once those 500 are claimed or the 24-hour period expires, the remaining quantity will go public for anyone to purchase.
Every Rarity League holder who completes the steps listed here on this PREMINT page will be dropped their free pack a few days after the public sale goes live. Make sure to fill out the form by 11am ET/8am PT on Tuesday, January 31 to get your bonus pack!
This player card presale will run for a limited time, so stay tuned for updates on when we'll be closing it. We will have more Player Card presales coming later this year with similarly curated lists of players in advance of the game's worldwide launch.
---
Recommended Content