Scoop Player Cards from Your Fellow Rivals In-Game + Here's Your Kickoff Lineup
---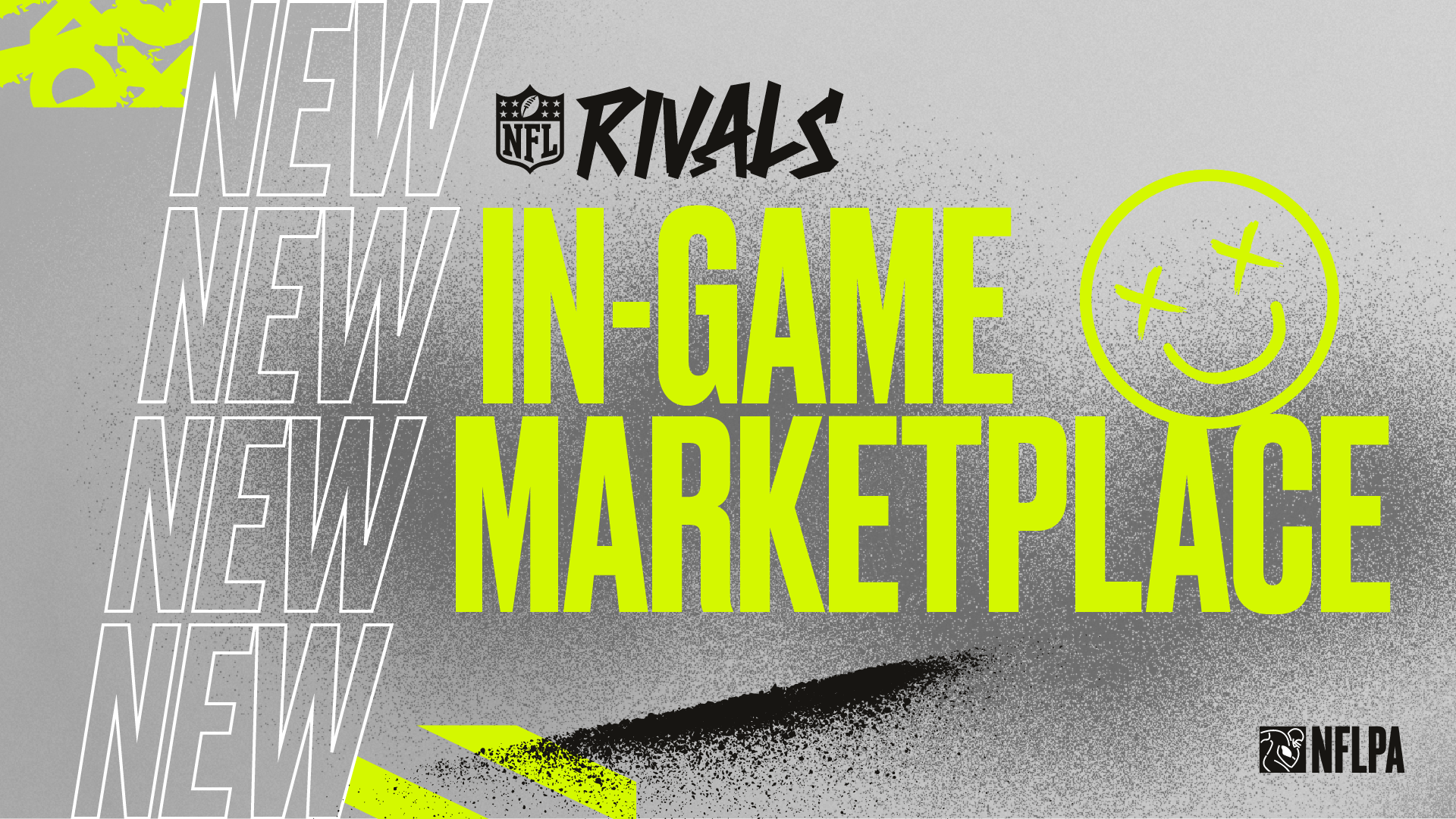 Rivals, the Kickoff program goes live today and it features one of the biggest updates to come to the game yet! We're bringing the Mythical Marketplace to the NFL Rivals app for all players to participate in the game economy we're all building together.
This will be a phased release, with multiple versions of the marketplace integration coming out in the coming months. As we break new ground with this feature, we will be running A/B tests to learn how to optimize and best deliver the ultimate buying and selling experiences possible for NFL Rivals.
Phase One Begins
In the first iteration of the in-game marketplace, we'll be rolling out the buy functionality. You'll receive recommendations of player cards for sale by your fellow Rivals that can potentially fill gaps or improve your lineup, which you can see in the lineup screen.
Interested buyers can purchase player cards from the marketplace using the normal payment process used to buy packs in the game, using a new in-game currency called Credits.
Just as with the Mythical Marketplace, the player card will be transferred to the buyer's lineup once the purchase is complete and the seller will be compensated in the corresponding amount of $MYTH tokens. Sellers will still need to list their cards on the Mythical Marketplace in order to sell their cards.
We're so excited for this first phase of the in-game marketplace and we hope you are too! This is truly a groundbreaking moment as we're bringing more and more opportunities to engage in the blockchain-enabled game economy on mobile everywhere.
Your Kickoff Lineup Has Arrived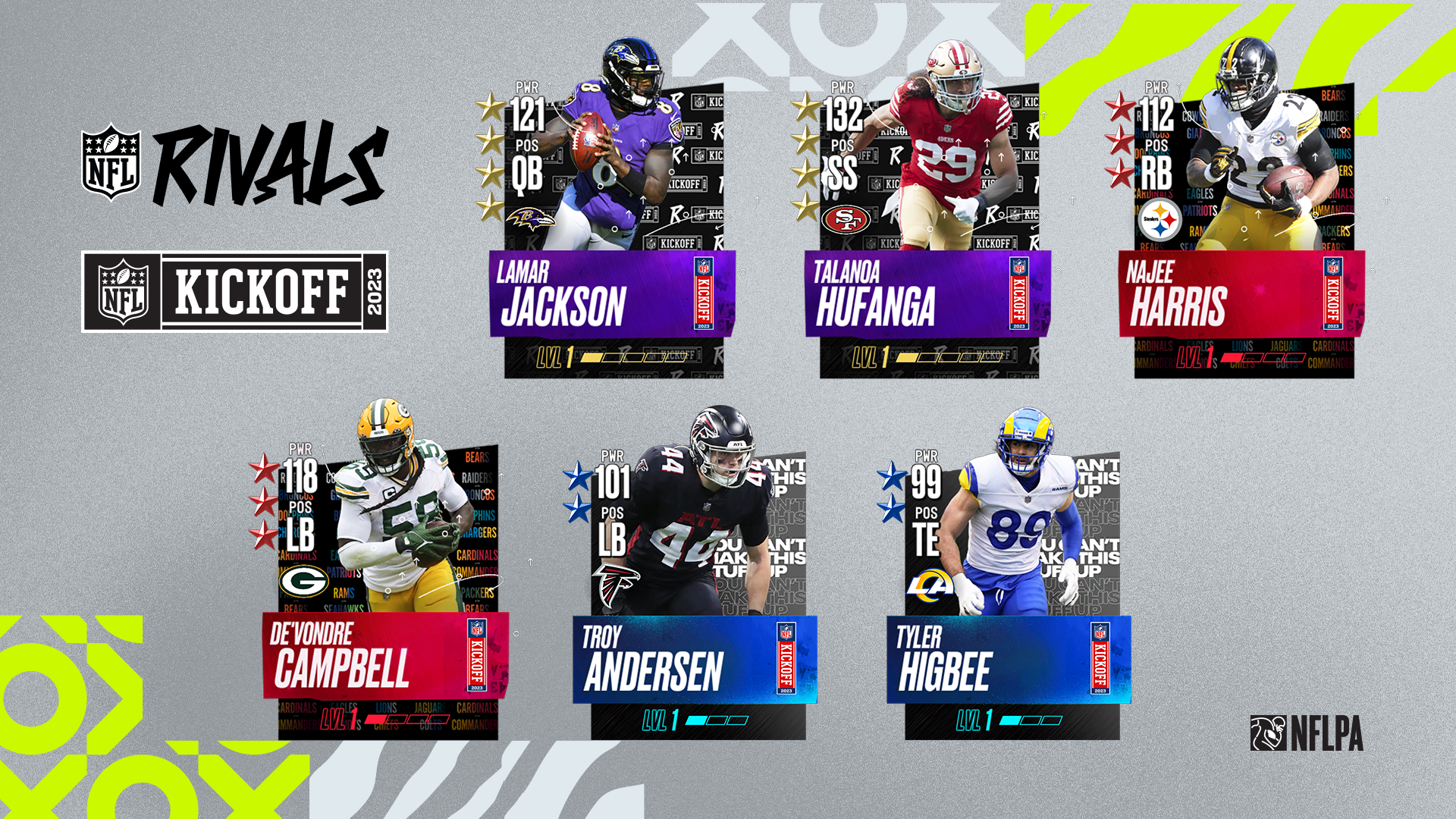 The pack players in the Kickoff program will be:
Legendary
Creed Humphrey, OL from the Kansas City Chiefs
A.J. Brown, WR from the Philadelphia Eagles
Matt Milano, LB from the Buffalo Bills
Talanoa Hufanga, SS from the San Francisco 49ers
T.J. Hockenson, TE from the Minnesota Vikings
Joe Mixon, RB from the Cincinnati Bengals
Trevon Diggs, CB from the Dallas Cowboys
Khalil Mack, DE from the Los Angeles Chargers,
Lamar Jackson, QB from the Baltimore Ravens
Dexter Lawrence II, DT from the New York Giants
Epic
Trevor Lawrence, QB from the Jacksonville Jaguars
Jaylen Waddle, WR from the Miami Dolphins
Quandre Diggs, FS from the Seattle Seahawks
Aidan Hutchinson, DE from the Detroit Lions
Najee Harris, RB from the Pittsbu/rgh Steelers
Lavonte David, LB from the Tampa Bay Buccaneers
JuJu Smith-Schuster, WR from the New England Patriots
Jaire Alexander, CB from the Green Bay Packers
Amani Hooker, SS from the Tennessee Titans
Rare
Xavier Woods, FS from the Carolina Panthers
Amari Cooper, WR from the Cleveland Browns
Juwan Johnson, TE from the New Orleans Saints
Chandler Jones, DE from the Las Vegas Raiders
Russell Wilson, QB from the Denver Broncos
Tyler Higbee, TE from Los Angeles Rams
Grover Stewart, DT from the Indianapolis Colts
James Conner, RB from the Arizona Cardinals
Desmond King II, CB from the Houston Texans
Jaquan Brisker, SS from the Chicago Bears
Troy Andersen, LB from the Atlanta Falcons
The chase players in the Kickoff program will be:
Legendary
Ronnie Stanley, OL from the Baltimore Ravens
Cameron Heyward, DT form from the Pittsburgh Steelers
Micah Parsons, DE from the Dallas Cowboys
Saquon Barkley, RB from the New York Giants
Charvarius Ward, CB from the San Francisco 49ers
DK Metcalf, WR from the Seattle Seahawks
Mike Onwenu, OL from the New England Patriots
C.J. Mosley, LB from the New York Jets
Epic
Justin Fields, QB from the Chicago Bears
De'Vondre Campbell, LB from the Green Bay Packers
---
Recommended Content