Michael Lau's Square drops January 26th - 1859 Available Only
---
Not only tagging up the Junction with his amazing art, but also shredding away on his skateboard. Square is here to make you an offer you can't refuse.
We are excited to have the Godfather of Designer Toys and Urban Vinyl, Michael Lau, join us for his second drop in the Blankos Block Party! This second amazing collaboration with Crazysmiles© brings us the famous "Square". This second Blanko from the Gardener series drops Wednesday, January 26th at 3 PM PST / 23:00 UTC in the Shop and in-game.
Square
Dropping in from the top of the bowl, Square makes his appearance! Michael Lau returns to Blankos Block Party with Square, #2 of 3 of the Gardener Series! This Blanko will be available on January 26th at 3 PM PST / 23:00 UTC for the price of $114.99 or 11,500 Blanko Bucks. This Blanko will be limited to 1859 mints to reflect the number of mints in the first iteration of the Gardener Series. After this Blanko reaches the supply limit, it will be frozen, meaning that this Blanko will no longer be available for purchase through the Shop or in-game. This Blanko is not available for MashUP.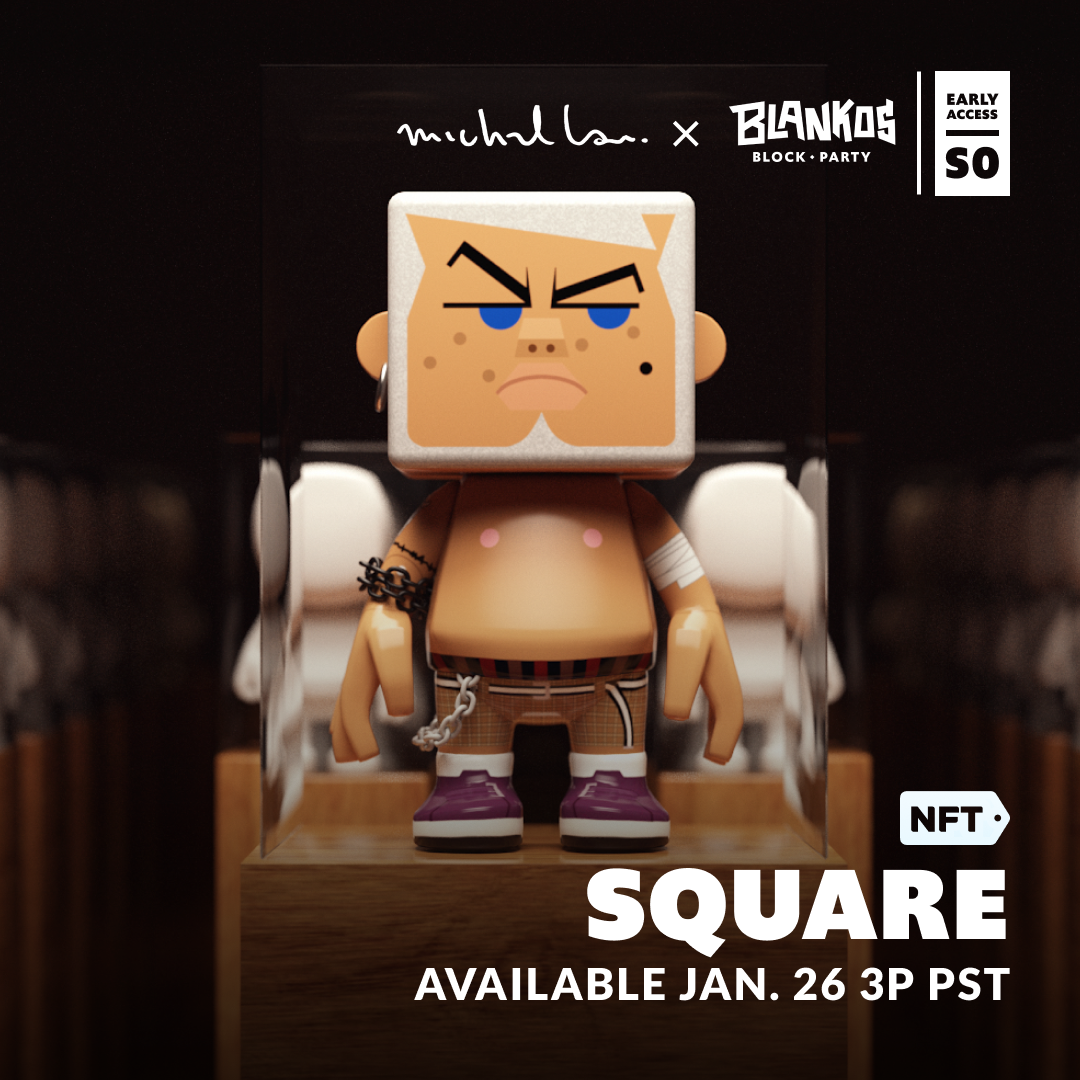 Accessories
As with the previous Michael Lau Blanko, Box B, this Blanko comes equipped with two unique, exclusive accessories. These accessories are a chain bracelet and a chain belt. When equipping new accessories, these accessories will temporarily "disappear" and be replaced with the newly equipped accessory. Upon unequipping accessories, they will return to their original slots!
The Gardener Series Blankos have been designed with box-shaped heads, just like the original Gardeners by Michael Lau! Because of this unique feature, the head slot of Square and future Gardeners are unable to wear Blanko head accessories.
Gumballs
We have 2 Gumballs rolling into the shop! The Lilac Nectar Chill and Grapplin' Grape Gumballs are super sweet and super purple! The Lilac Nectar Chill Gumball recolors your MashUPs with the sweetest and most soothing of lilacs. The Grapplin' Grape Gumball replaces the base color of your MashUPs with Grapplin' Grape Purple.
*THERE WILL BE A CART LIMIT OF 4 BLANKOS PER PURCHASE. THERE IS NO LIMIT ASSOCIATED WITH HOW MANY BLANKOS CAN BE OWNED PER ACCOUNT.
---