Michael Lau Drops December 20th - SALE ENDED
---
*Places orange peel in lower lip*
You come into my Junction on the day my Blanko is to be dropped, and you ask me to do a new rotation of Block Parties. For XP Chips.
We are excited to have the Godfather of Designer Toys and Urban Vinyl, Michael Lau, join us in Blankos Block Party! This fantastic collaboration with Crazysmiles© brings us the square-headed "Box B". This is our first Blanko that will be a part of a series! Other Blankos from the Gardener Series will be dropping at later dates. This first Blanko in the Gardener Series drops Monday, December 20th from 3 PM PST to 3:10 PM PST  / 23:00 UTC to 23:10 UTC in the Shop and in game. There will be an order limit of 4 Blankos per cart, but no limit on the amount you hold in your account.
Box B
Break the mold with Box B, a square Blanko in a world that keeps throwing curves. Box B is here and ready to Reduce, Refuse, and Rebel, how did things ever get so far? Box B, #1 of 3 from the Gardener Series, will only be available December 20th at 3 PM PST to 3:10 PM PST / 23:00 UTC to 23:10 UTC for the price of $99.99 or 10000 Blanko Bucks. After the time is up, tokenization will end! This Blanko is not available for MashUP.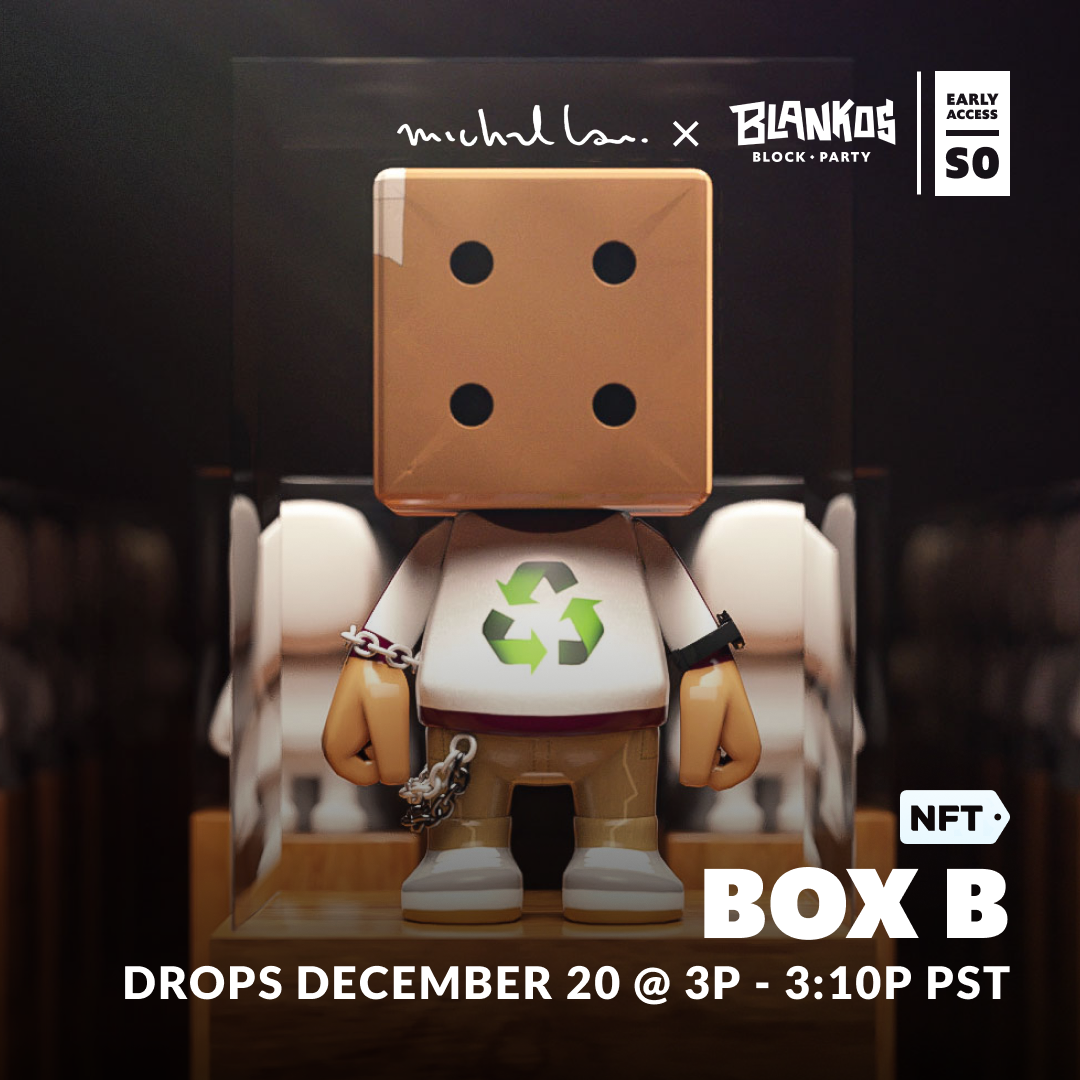 Accessories
Box B comes equipped with three unique, exclusive accessories. These accessories are a chain bracelet, a wrist watch, and a chain belt. When equipping new accessories, these accessories will temporarily "disappear" and be replaced with the newly equipped accessory. Upon unequipping accessories, they will return to their original slots!
The Gardener Series Blankos have been designed with box-shaped heads, just like the original Gardeners by Michael Lau! Because of this unique feature, the Head slot of Box B and future Gardeners are unable to wear blanko head accessories.
GUMBALLS
We have 2 Gumballs dropping into the shop! The Prickly Pear and Rainbow Wing Sherbet Gumballs are full of flavor and will make your Blankos look absolutely delicious! The Prickly Pear Gumball replaces the base color of your MashUP with a griping green during a Mix or a MashUP. The Rainbow Wing Sherbet Gumball recolors your Mash-Ups with the palette of a beautiful rainbow.
Stream - End of the Year Celebration of Builders
Tune in on Friday, December 17th at 10 AM PST / 18:00 UTC as Josh "The Foreman" Foreman streams Blankos Block Party on twitch.tv/playblankos for an end-of-the-year celebration of our Builders! Our Builders and Hit-Makers have provided so much for our community and Blankos Block Party in the form of beautiful and extremely well-made stages. During our stream we will have special guests join us to discuss their favorite stages and Builders, and share tidbits of what we may have planned for the future.
---