Manila Chill Party Pass Drops December 1st
---
Blankos, engage! Welcome to the newest MECHTASTIC Party on the Block! Early Access Party Pass: Manila Chill blasts its way into the Junction on December 1st, at 9:00 AM PST / 17:00 UTC. This action packed Pass is full of Moola, XP Chips, Blanko Bucks, emotes, gumballs, and NFTs! Party Pass: Manila Chill will run until January 26th, 9:00 AM PST / 17:00 UTC!
The Party Pass+ will cost $24.99, giving you access to both the free track and premium track and providing you the ability to earn up to 9 NFTs!
Keep in mind that the speed at which you complete the pass is determined by how many challenges you complete and how fast you complete them. So make sure to complete your daily, weekly, and seasonal challenges and unlock more rewards in your Party Pass and Party Pass+ progression!
Note that all Challenges reset at 9 AM PST / 12 PM EST / 17:00 UTC and Weekly & Seasonal Challenges reset on Wednesdays
As soon as you claim the NFTs in the Party Pass, your items will be tokenized. This means that on the day of a reset, you will be able to play towards the first mint numbers of the NFT available at that time. Make note of the number of Hype Points needed to unlock each NFT.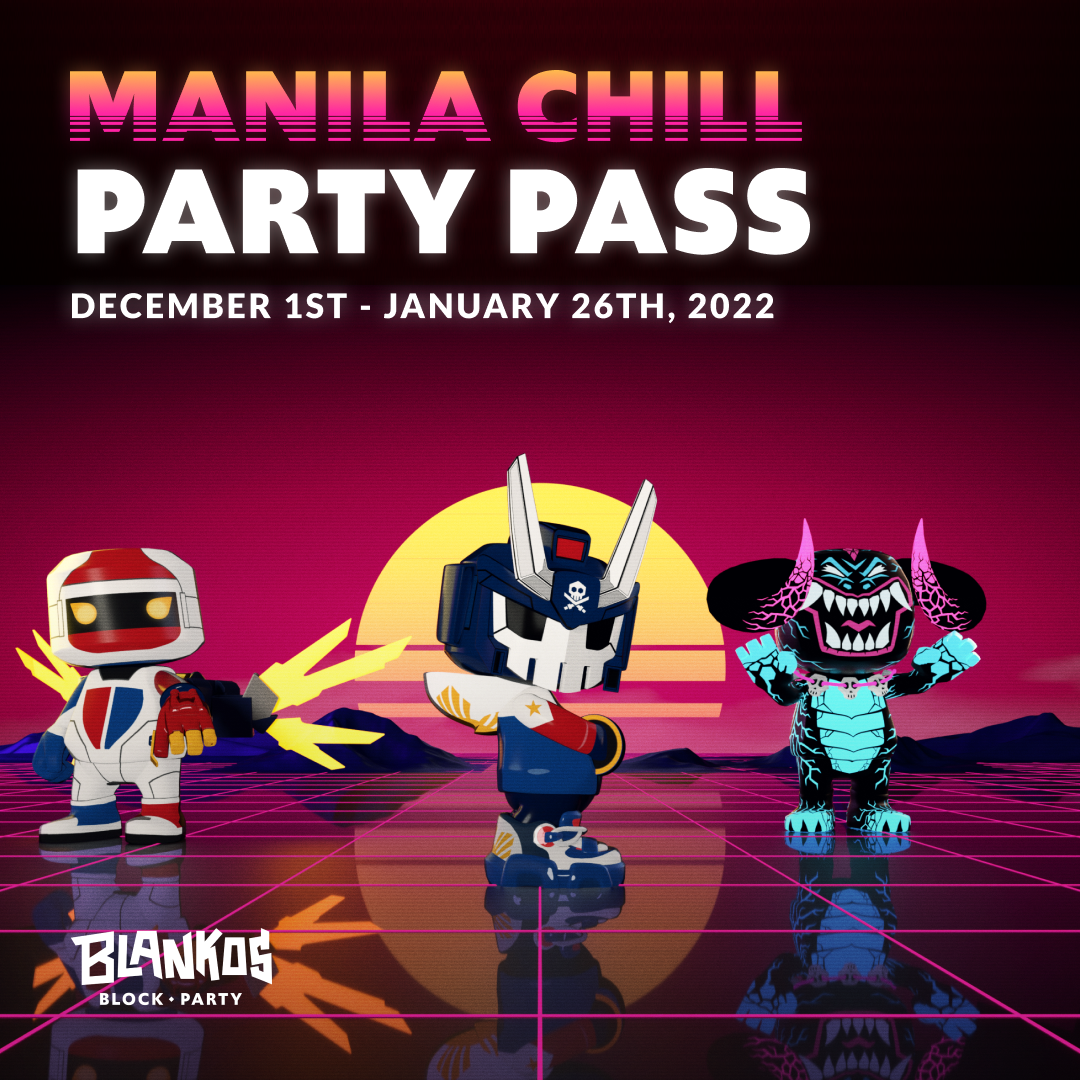 Free Track Rewards
The base track features 4 new NFTs; 3 accessories and 1 Blanko!
Gelid's Blessing (72)
Gelid's Honor (236)
Gelid Zero (494) - MASHABLE
Gelid's Horns (680)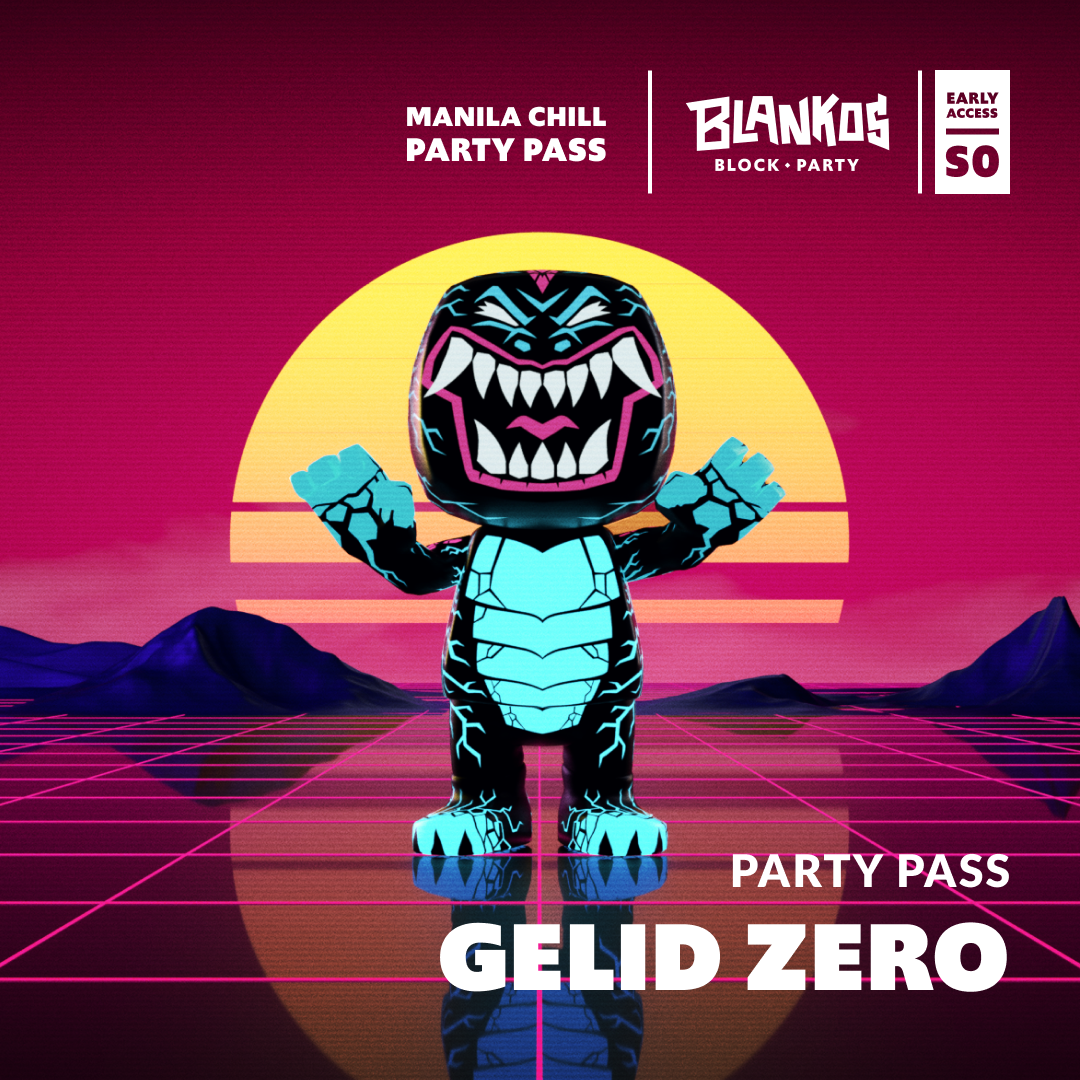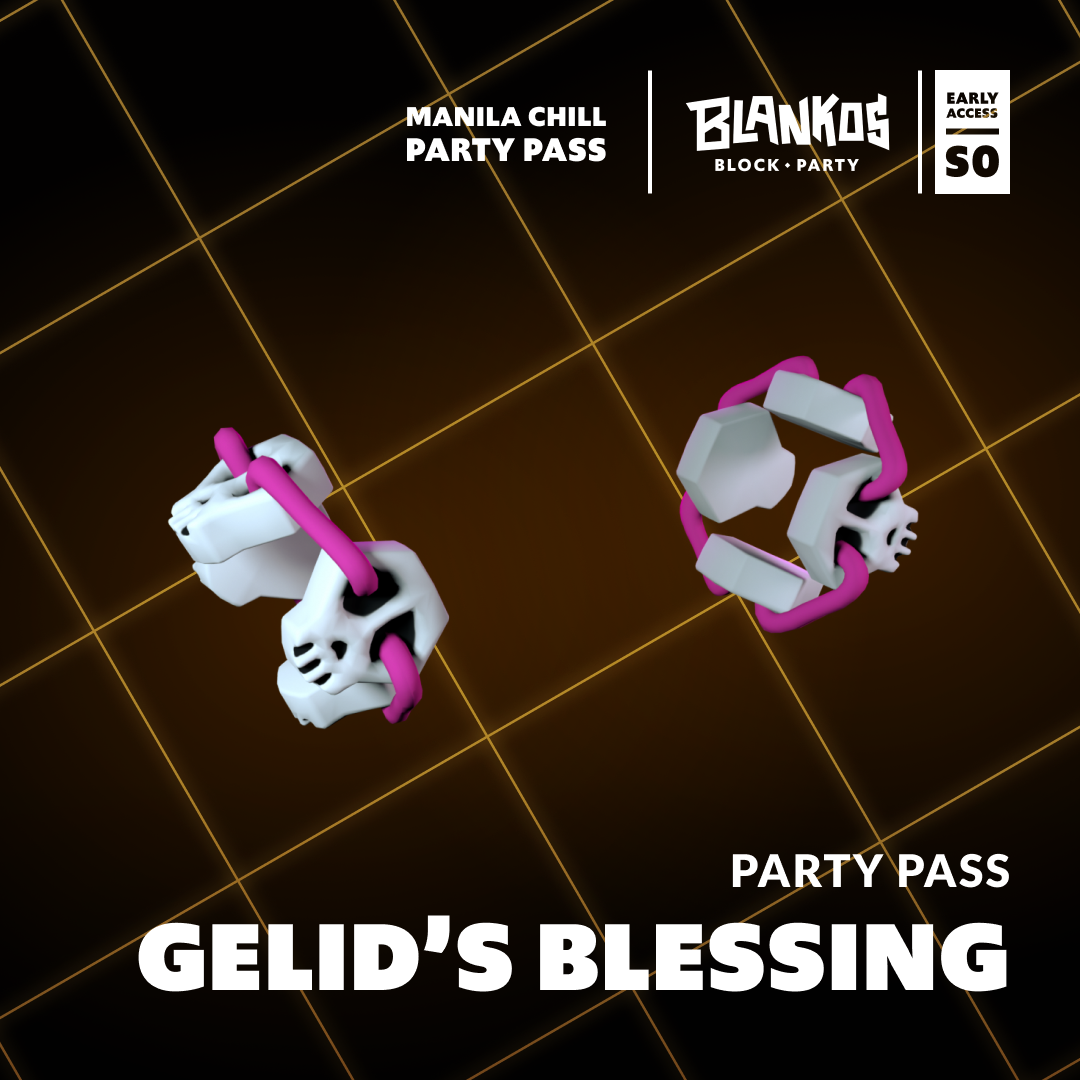 Party Pass+ Track Rewards
The paid track features 5 new NFTs; 3 accessories and 2 Blankos!
Mach-63 (3) - MASHABLE
Mach-63 Gauntlet (150)
Mach-63 Lodi Kicks (326)
Mach-63 Light Striker Glider (410)
Manila Killa (584) - NOT MASHABLE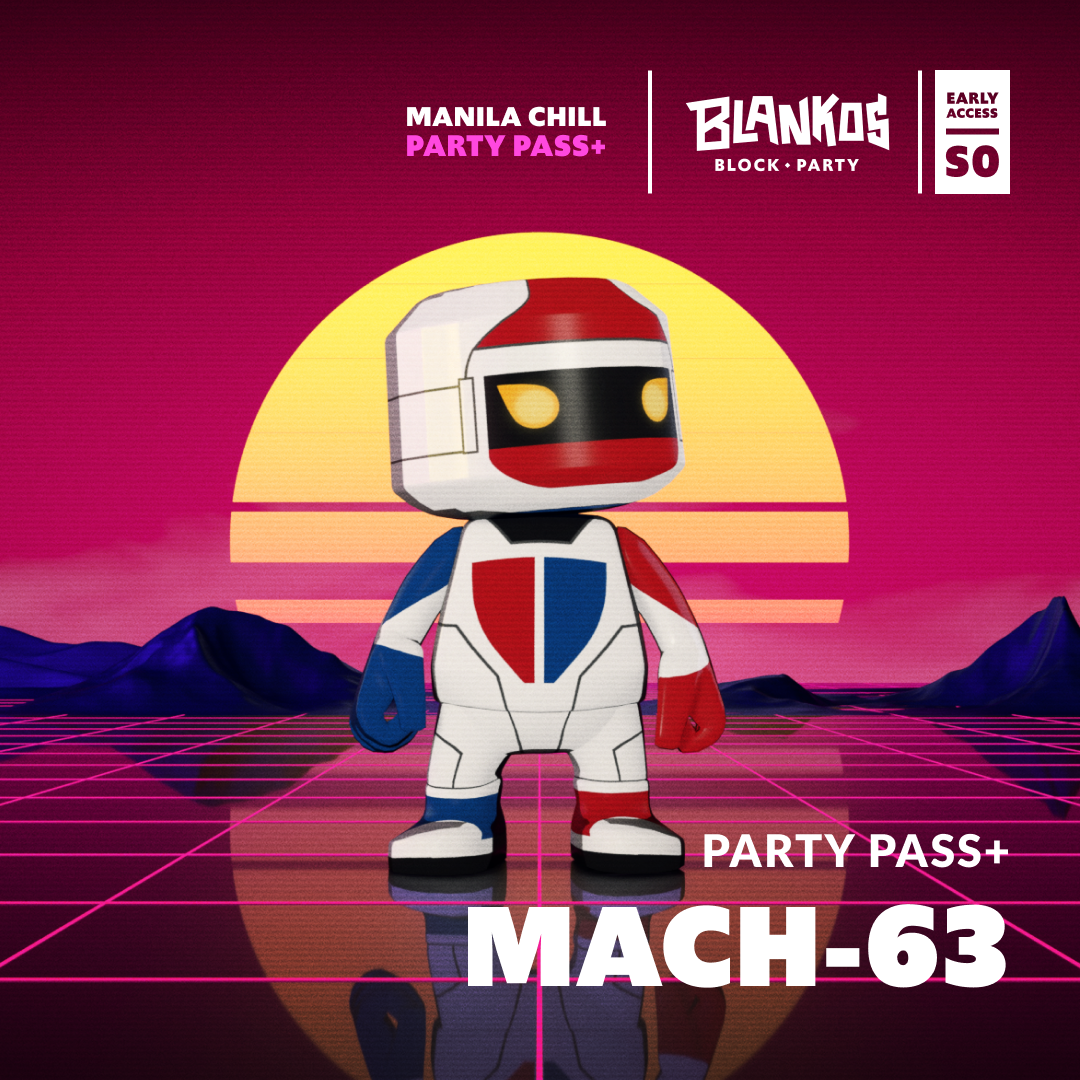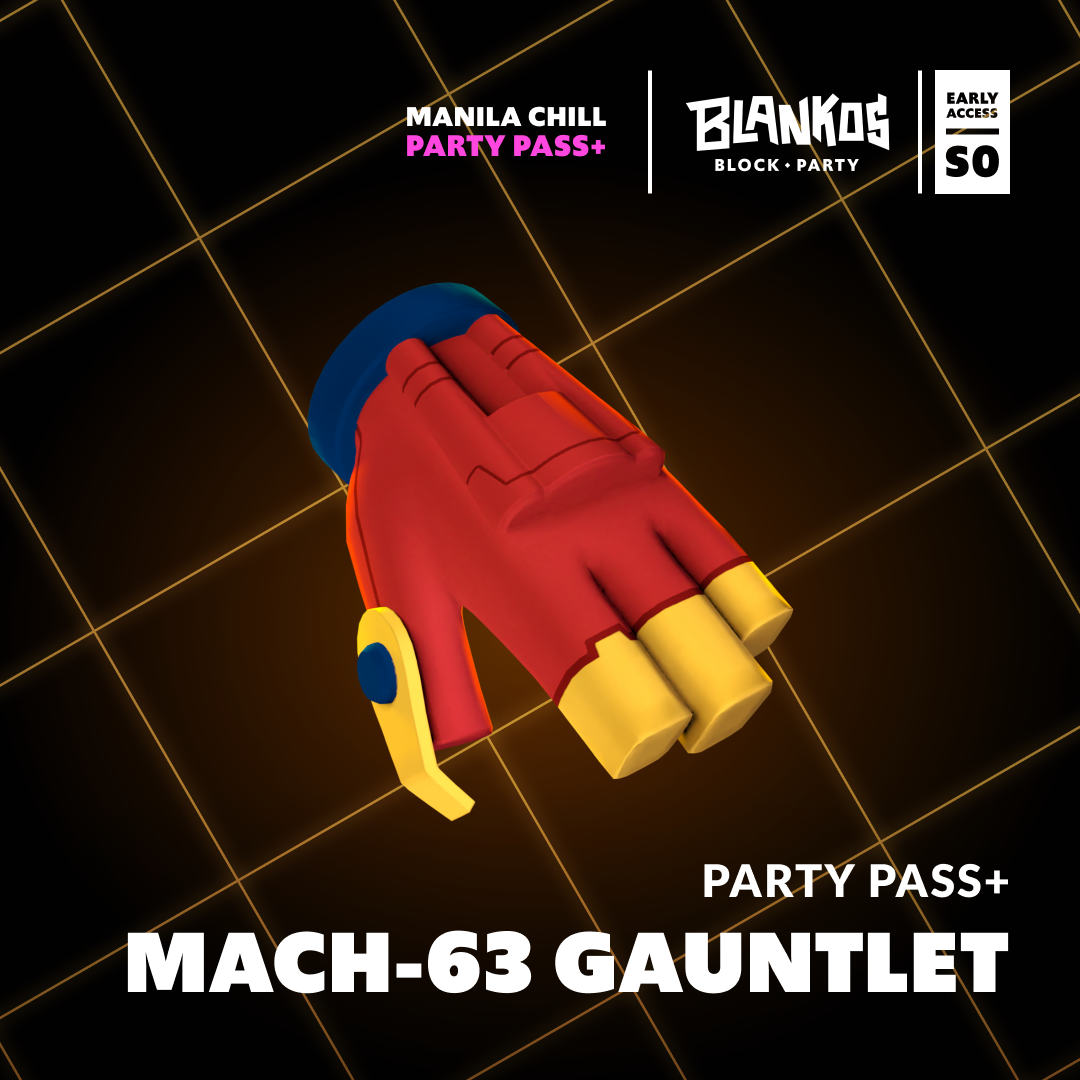 Mecha Reinforcements!
To celebrate the launch of Party Pass: Manila Chill, we want to provide a special challenge. For this Party Pass, we will be implementing Gelid's Special Challenge to give players a head start to Party Pass: Manila Chill. With this head start, players will be receiving 20 Hype Points for completing the Gelid's Special Challenge. This Challenge will be accessible to all players, regardless of owning Party Pass+, providing Hype Points as rewards for completing it.
The Challenge will be available to complete one time only, during the duration of Party Pass: Manila Chill!
---