Kitsune by Candie Bolton drops June 9 - Only 400!
---
Are you ready for one of the rarest drops we have ever dropped? Kitsune is a brand new Blanko dropping on June 9th at 3PM PDT and only 400 will be available. That's right 400! This is unlike any drop we've ever done.
Because of the low quantity for Kitsune, we are pricing this Blanko at $149.99 USD. This is the ultimate collector's Blanko.
Kitsune will be available on the web store or in-game, but you will not be able to purchase this Blanko with Blanko Bucks. You will need to use a credit/debit card if buying in-game. Only 25 per transaction if you're buying on web.
As always, this Blanko will be able to be listed right on the Mythical Marketplace for those who have access to the Closed Alpha.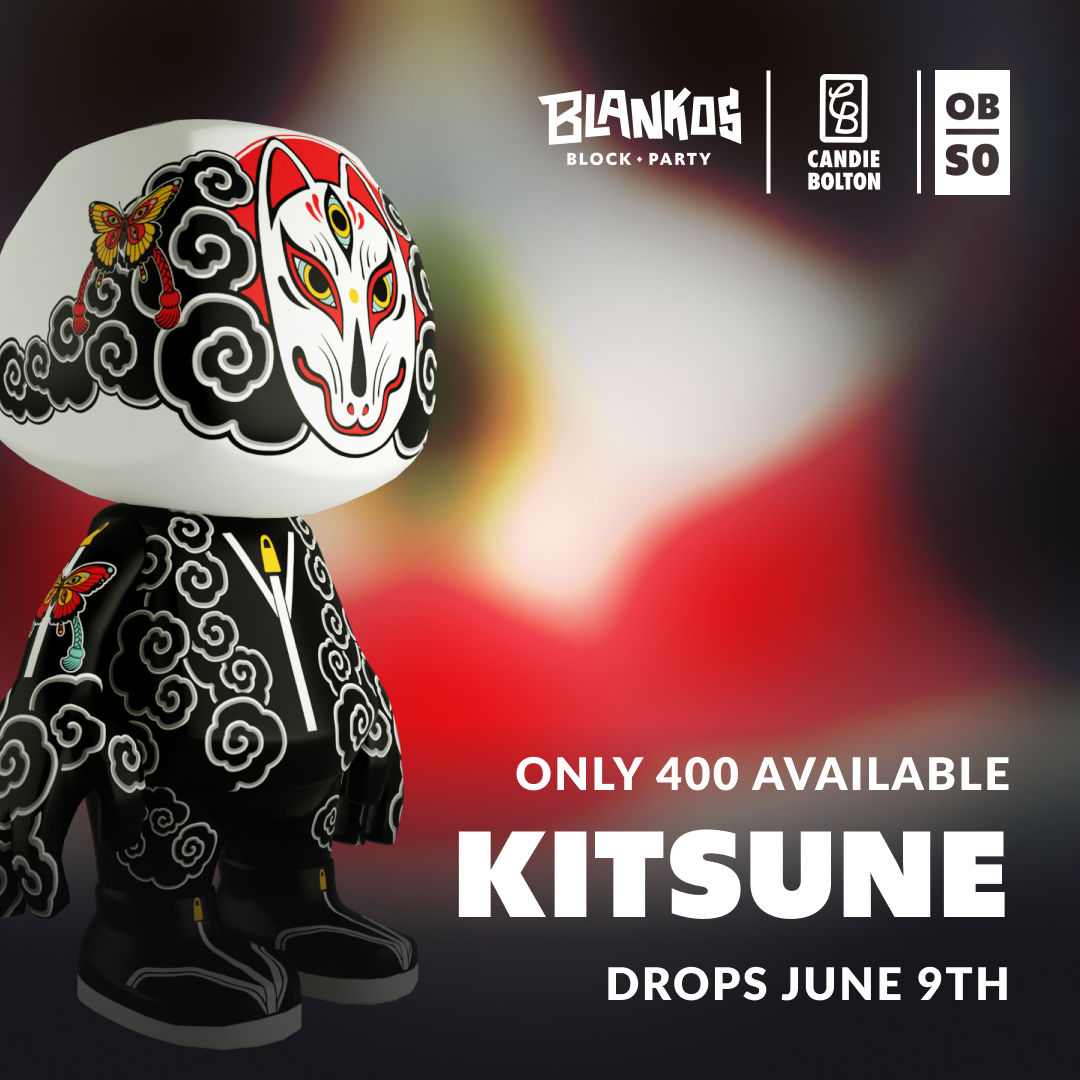 Candie Bolton (https://www.candiebolton.com/) is a brand new artist we are welcoming into the Blankos fam! We are incredibly excited to be working with Candie, and we welcome her unique art style into Blankos. This will be her first ever Blanko drop, and it is a spicy one!
We're so thrilled that we wanted to introduce this artist to the community better with a short Q&A. Here is Candie Bolton!
Mythical Games: What are some art projects you are working on this year?
Candie Bolton: I have two new sofubi designs debuting soon, they were sculpted by Japanese artists and will be made in Japan. These are both self-produced projects and I am really happy with how the designs have turned out. I hope my fans will enjoy these new toys!
MG: Where do you draw inspiration for your work?
CB: I am primarily inspired by Japanese culture, new and old. This includes Japanese folklore, woodblock prints, kimono patterns, tattoos (irezumi), and also more modern things like anime, manga, video games, street fashion, etc. I've always been fascinated by their culture and it's one of my favorite countries to visit.
MG: What's your process and routine for getting in the 'zone' creatively?
CB: I start every day with making a pot of coffee and then dive into things immediately, I never work in complete silence so I'll usually put something on youtube playing in the background or sometimes a Twitch stream, podcast, or music. If I'm ever feeling stuck or out of ideas then I'll look up reference images until I feel inspired enough to begin and if this doesn't work then I'll move onto a different project while still waiting for inspiration to strike. If I don't have the luxury of waiting to be inspired then I'll have to brute force my way through it with rough sketches. Sometimes I'll start out on my iPad and once I'm happy with that I'll either import it to my computer and use adobe illustrator to refine the linework or move onto physical media. Painting toys is a similar, but a less brutal process. I'll do some research by scanning the internet for inspiration ranging from kimono fabrics, ceramics, or even color gradients from photos of sunsets. But I could spend all day planning out every little detail for the paint job and once I go out to my spray booth and start airbrushing things usually end up looking completely different from how I had planned.
MG: What tools/products do you typically use from concepts to production?
CB: One tool that I've stuck by my entire life has been my Pentel quicker clicker 0.5mm mechanical pencil. Lately, I've been incorporating my iPad more into the sketching process, but I'll always have an affinity for sketching on paper with mechanical pencils. When it comes to airbrushing I am absolutely in love with my Iwata Eclipse Hp-Cs, I've been using the same one since 2017 and it will probably last forever as long as I take good care of it.
MG: Would you rather have more ideas or more time?
CB: More ideas for sure, but hopefully all good ones. It only takes one really good idea for an artist to make their career. Sometimes an idea can be so memorable that it becomes a part of human history forever.
MG: Why design for Blankos?
CB: I'm very passionate about gaming so when I was approached about designing my own Blanko I knew it was an opportunity that I couldn't pass up. For my Blanko design, Kitsune, I had the idea that I wanted to make it look like a fox (kitsune is fox in Japanese) with many elements from folklore combined. If you look closely at all the different symbols you'll find that it tells a story about duality and transformation.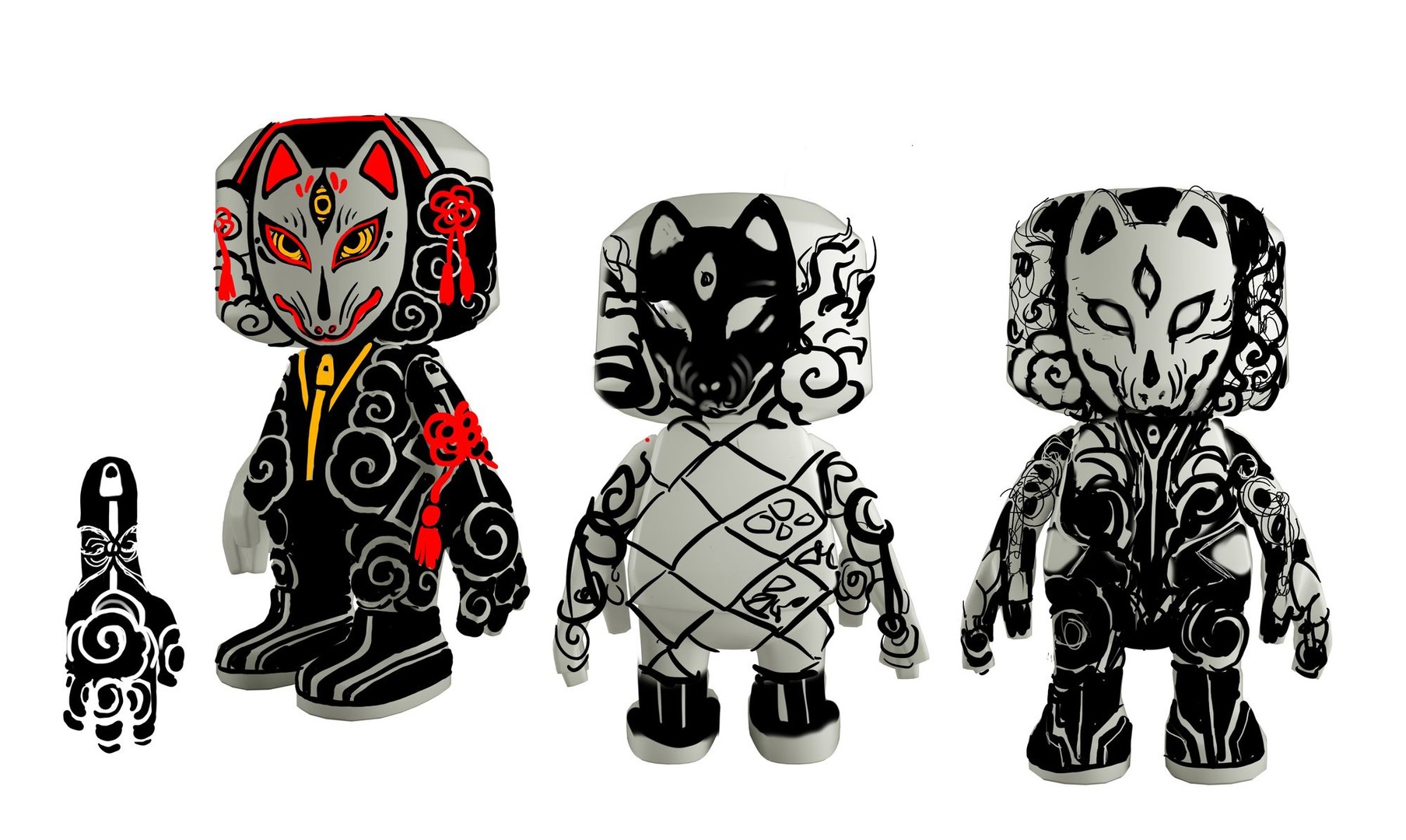 MG: What do you think of the emerging trends around NFT/crypto art?
CB: It's a really interesting concept that I've been looking into lately. It took me a while to wrap my head around it, but now I feel like it's the most logical progression for art. I think we're only scratching the surface for the possibilities of NFT and will continue to see it used for practical purposes in the future.
To discuss this article or to give us feedback, head to our Discord Server, Subreddit, or Twitter to share your thoughts.
---