Guild Ownership in NFL Rivals
---
In our most recent update we talked about how the number of Rarity League collectibles available is closely tied to the number of Guilds in NFL Rivals. We also talked about how being part of a Guild is a core element to the experience in NFL Rivals.
In this update we're going to do a deep dive on the basics of a Guild, what it means to be a Guild Owner, and how it all ties together with Rarity League. Oh yeah, "Guild" is a placeholder name right now and we may call it something different when we launch, but any changes won't affect how the feature functions. Have a suggestion for the name? Tell us in our Discord community.
Let's dig in!
What a Guild Is in NFL Rivals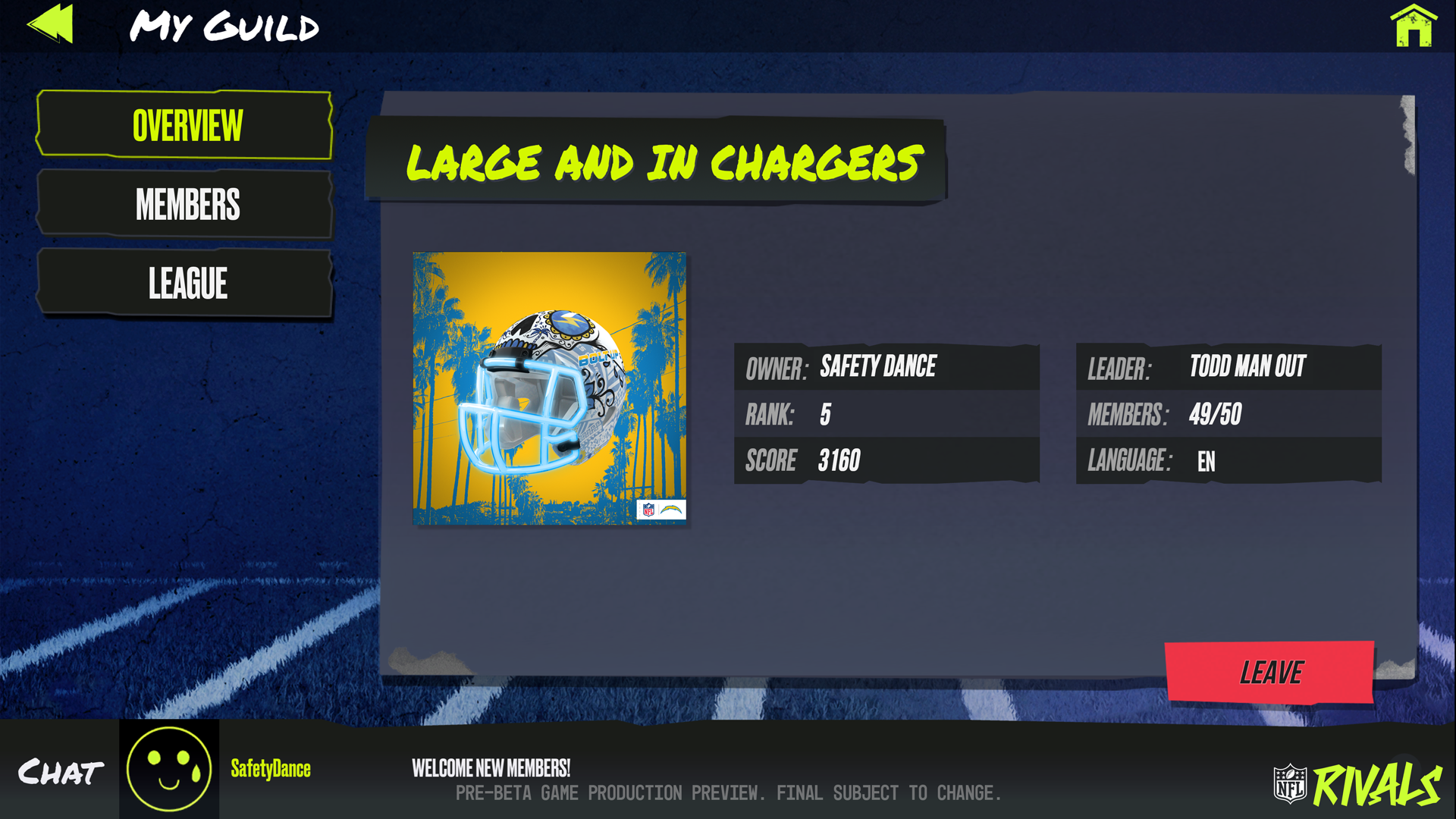 Rarity League is not just the new wave of fan gear, it's also how you own a Guild in NFL Rivals.  This is a one-to-one relationship, so one Rarity League digital collectible equates to one Guild in the game.
Guilds represent tight-knit communities of players within the game and can have up to 50 members. They're free to join, although some are invite-only, and Guild Members can coordinate via a guild-only chat to dominate the leaderboards. Each Guild has an owner and that position belongs to a Rarity League holder.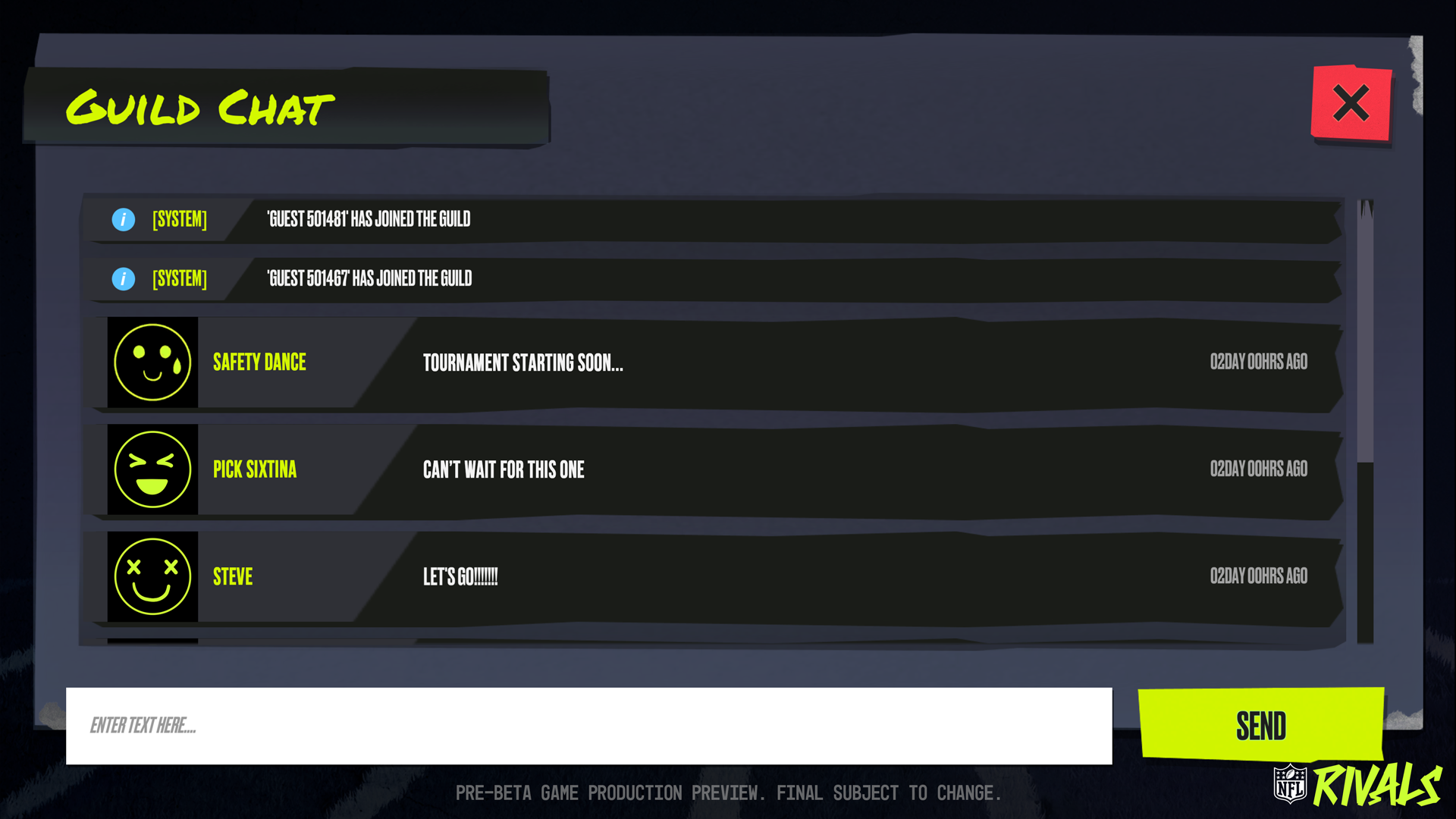 Explaining the Guild Roles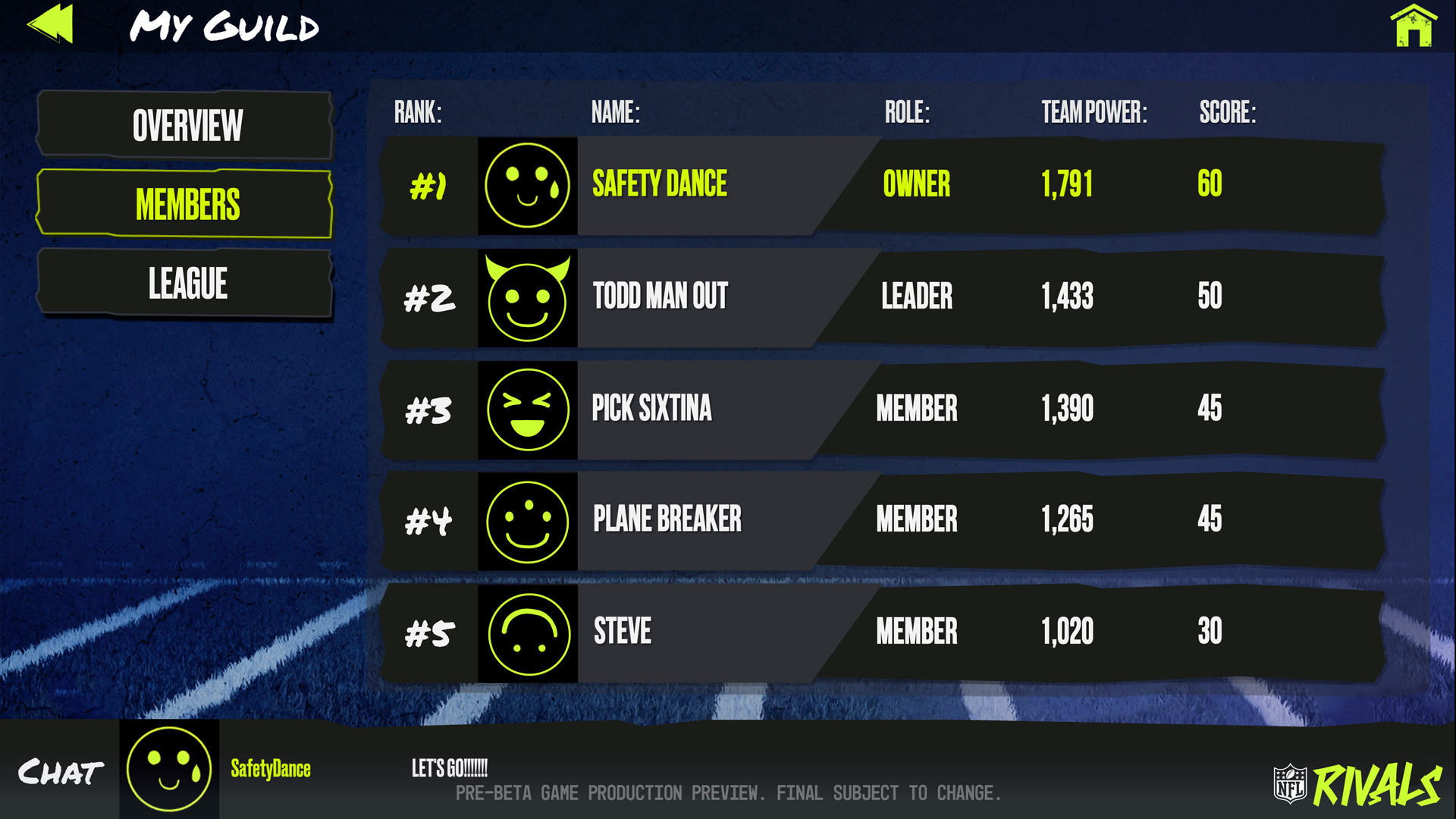 Guild Owner: You're the head honcho of your Guild. You can get into the day-to-day management of the Guild if you want or you can appoint someone to be the Guild Leader to do it all for you. In fact, you can be the owner of multiple Guilds, but you can only be an active member of one Guild at a time. For Guilds that you own that you're not a member in, you can appoint someone in those Guilds to be the Leader.
Guild Leader: This person may not necessarily be the owner, but they are the one handling the actual day-to-day management of the Guild, such as inviting new team members, setting entry requirements, ensuring that the Guild is active, removing members that are inactive or not contributing, and chatting with and motivating members to work together towards the Guild's leaderboard goals. You can think of the Guild Leader like a team's head coach, who runs the shop on behalf of the Owner.
Guild Member: There can be up to 50 members in a Guild. Guilds are searchable and free to join, however they can be set to invite-only. Members can be appointed to roles by either the Leader or the Owner.
Basic Features of a Guild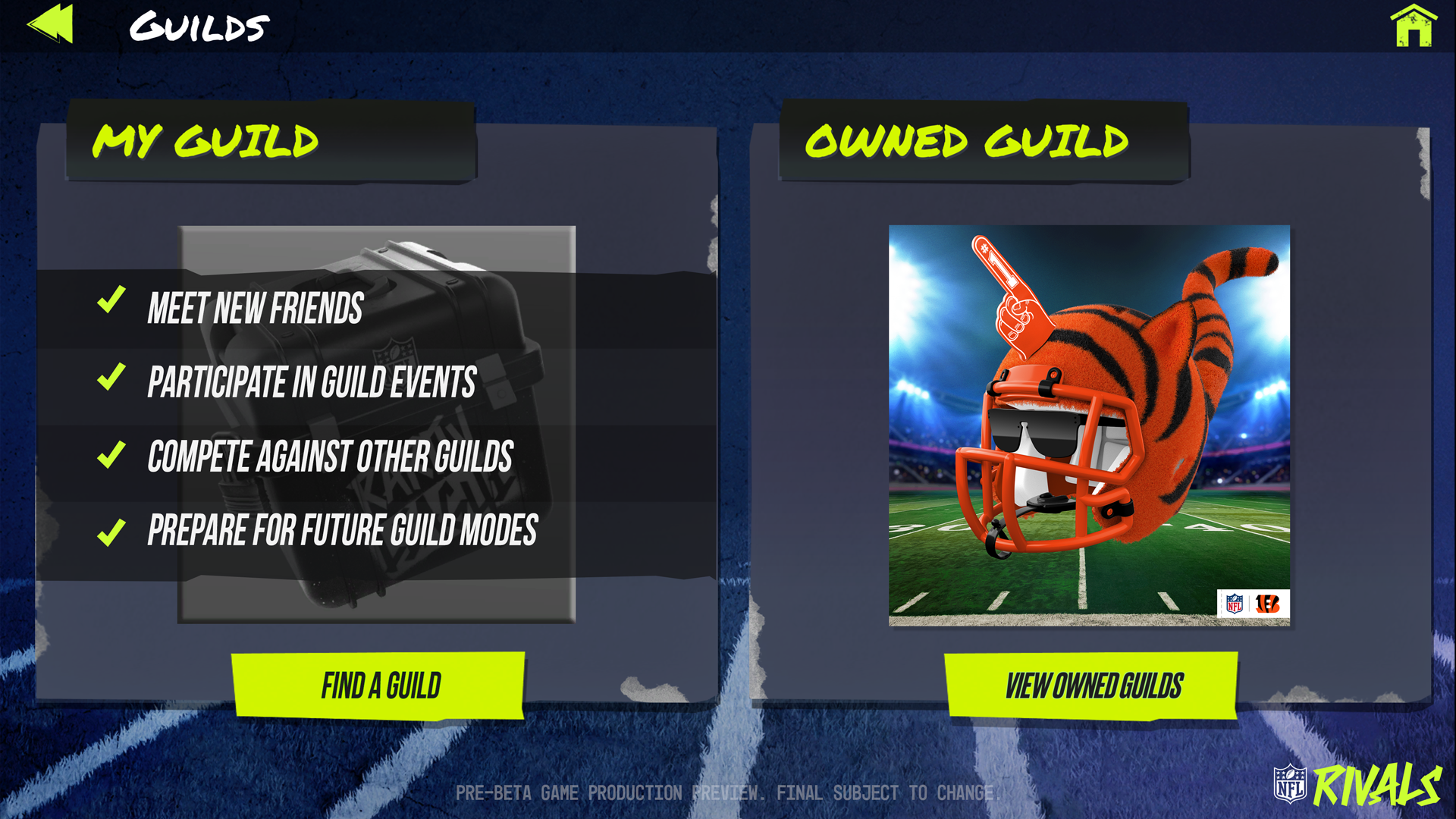 Guilds are a community of players with a hierarchy of members defined by the owner and/or the leader. The higher ranks have more admin powers in the Guild, such as promoting, inviting, or kicking players. Players can browse Guilds and join a Guild of their choice, assuming they meet the entry requirements.
Leaderboard & Rewards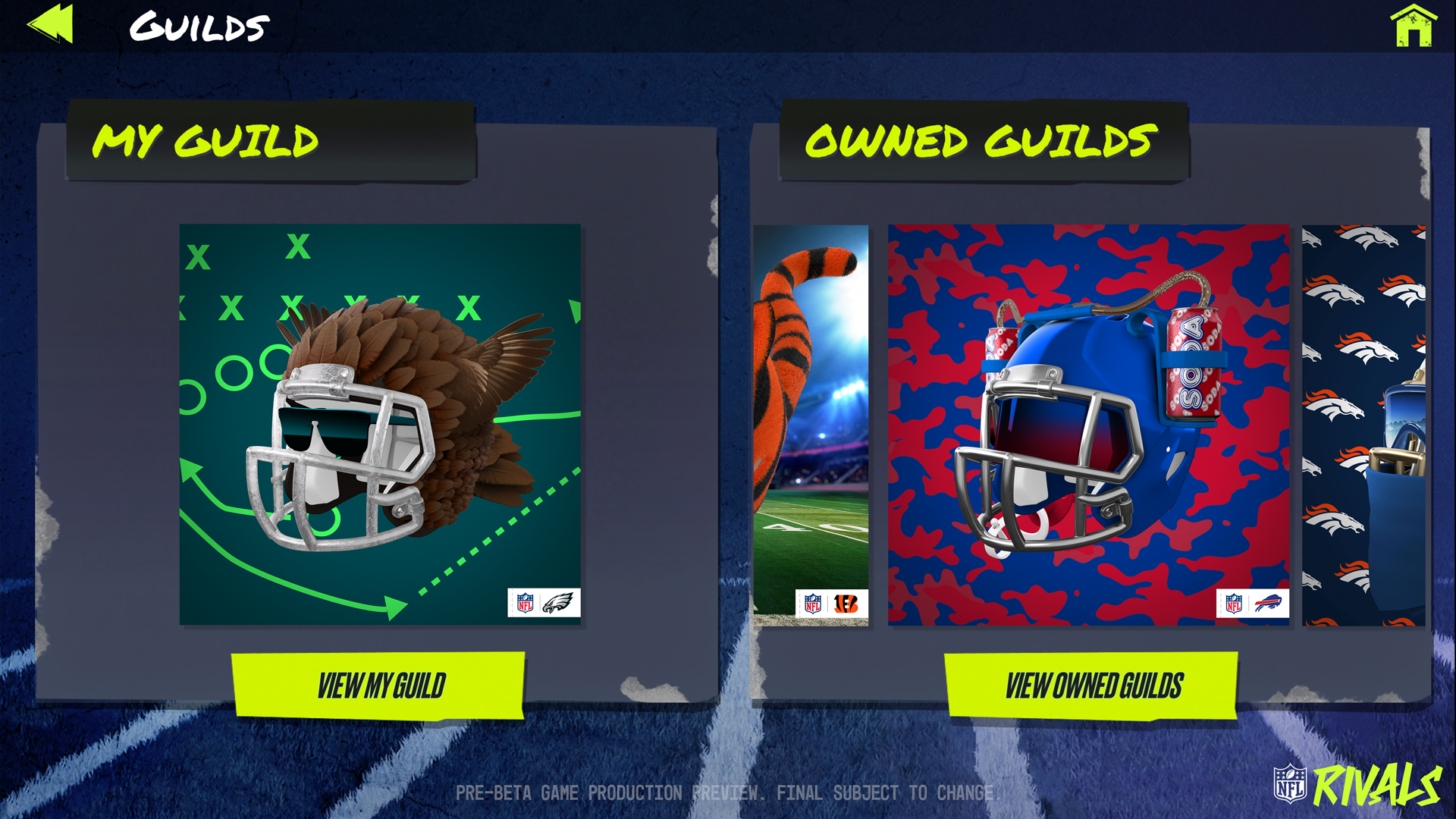 Guild members earn points from participating in Solo Seasons and individual PvP events that contribute towards a Guild leaderboard, which reset at regular intervals and rewards are distributed to Guild Owners and Guild Members based on their Guild's final standings. Guild Owners will be able to earn additional rewards from their Guild's successes.
For each reward, there will be one set distributed to all Guild Members and another set distributed exclusively to the Guild Owners. Owners can earn high value rewards that can unlock NFT player cards and in-game resources, giving owners the choice to stock up appropriately.
These rewards will accumulate across the in-game seasons until claimed by the Guild Owner. If a Guild is earning rewards but doesn't have an Owner, then the rewards will gather and be available for claiming by the first person to become the Guild's Owner.
We hope this gives you a better idea on how Guilds and Guild ownership work in NFL Rivals. If you have any questions or feedback, feel free to hit up our team in our community channels on Discord or Twitter and we can chat more about it!
---
Recommended Content