GET LUCKY PARTY PASS DROPS JAN 26TH
---
Party Pass: Manila Chill comes to a close on January 26th, 9:00 AM PST / 17:00 UTC, bringing in our newest Party Pass: Get Lucky!
We ROAR into the Lunar New Year with our latest Party Pass: Get Lucky! BURSTING with vivid colors, we BLAST in the new Party on the Block! Early Access Party Pass: Get Lucky ROCKETS its way onto the Desk on January 26th, at 9 AM PST / 17:00 UTC. This explosive packed Party Pass is full of moola, XP Chips, Blanko Bucks, feline themed emotes, gumballs, and NFTs! Party Pass: Get Lucky will run until March 23rd, 10 AM PDT / 17:00 UTC (Accommodating for changes from Daylight Savings)!
The premium Party Pass+ will cost $24.99, giving you access to both the free track and premium track and providing you the ability to earn up to 9 NFTs!
Keep in mind that the speed at which you complete the pass is determined by how many challenges you complete and how fast you complete them. So make sure to complete your daily, weekly, and seasonal challenges and unlock more rewards in your Party Pass and Party Pass+ progression!
Note that all Challenges reset at 9 AM PST / 12 PM EST / 17:00 UTC and Weekly & Seasonal Challenges reset on Wednesdays.
*Please note that once Daylight Saving starts, Challenge reset times are subject to change. More information will follow as we get closer to that period.
As soon as you claim the NFTs in the Party Pass, your items will be tokenized. This means that on the day of a reset, you will be able to play towards the first mint numbers of the NFT available at that time. Make note of the number of Hype Points needed to unlock each NFT.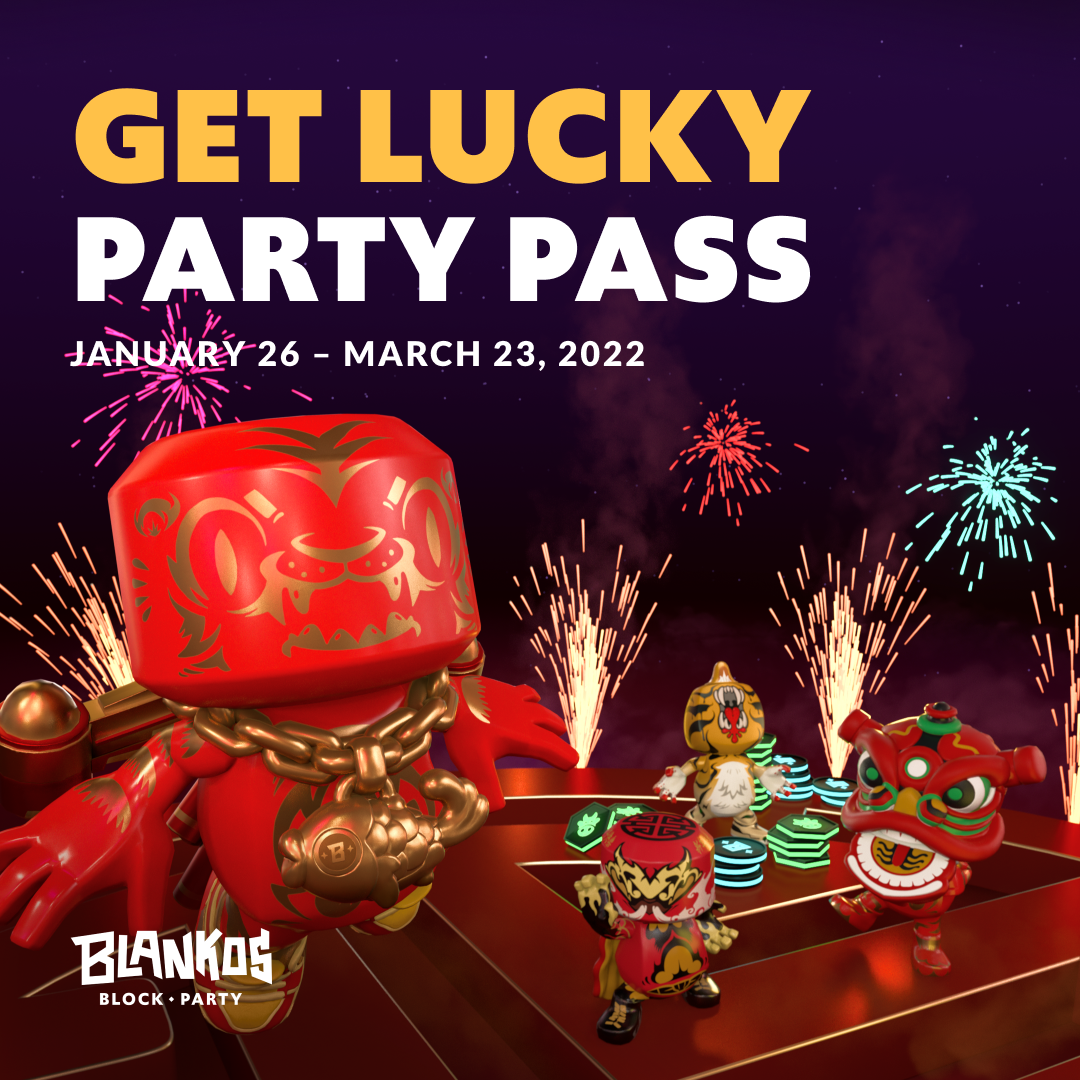 FREE TRACK REWARDS
The base track features 4 new NFTs: 3 accessories and 1 Blanko!
Scarlet's Nian Cape (82 Hype Points)
Scarlet's Nian Mask (250 Hype Points)
Lucky Red Kerchief (520 Hype Points)
Scarlet Crash (710 Hype Points)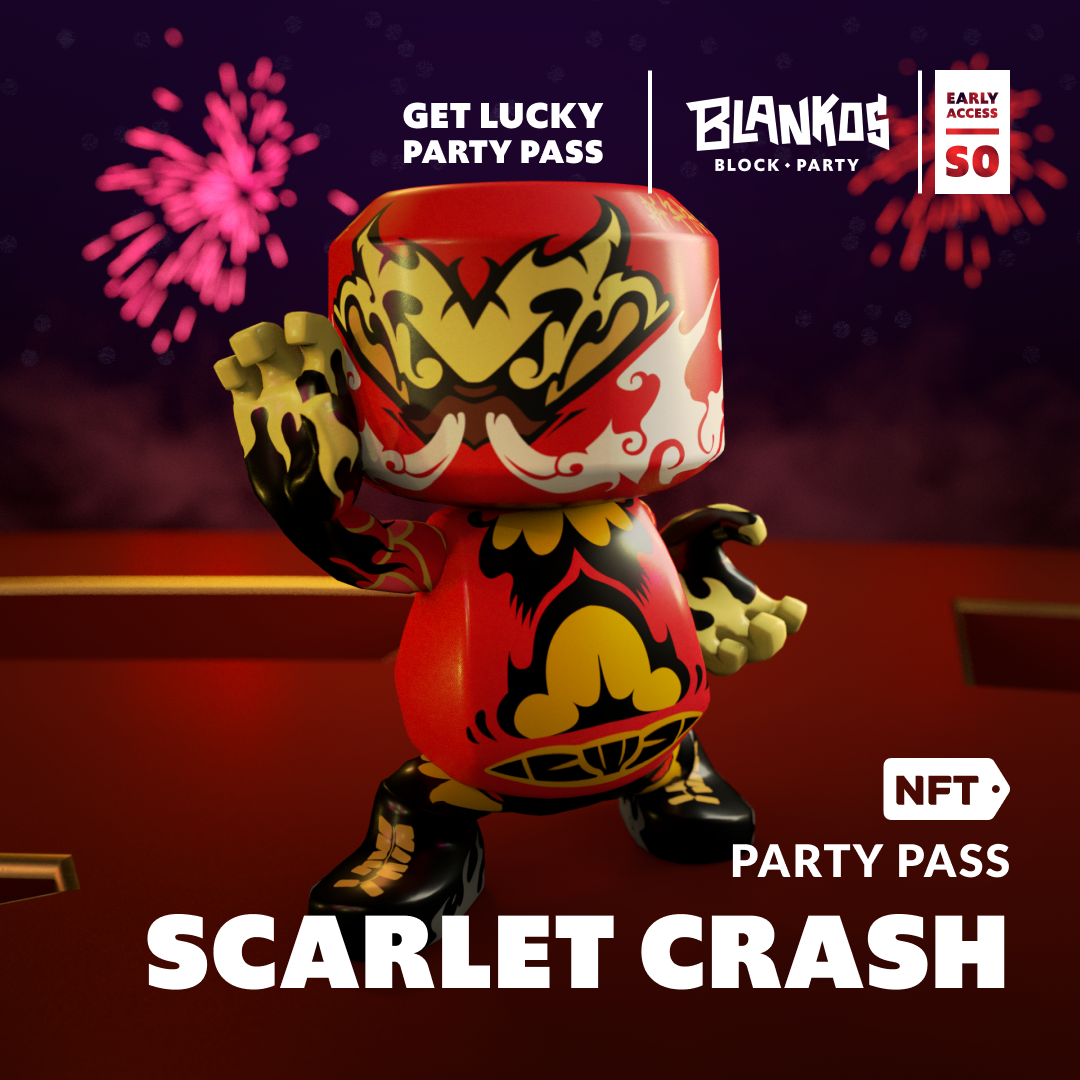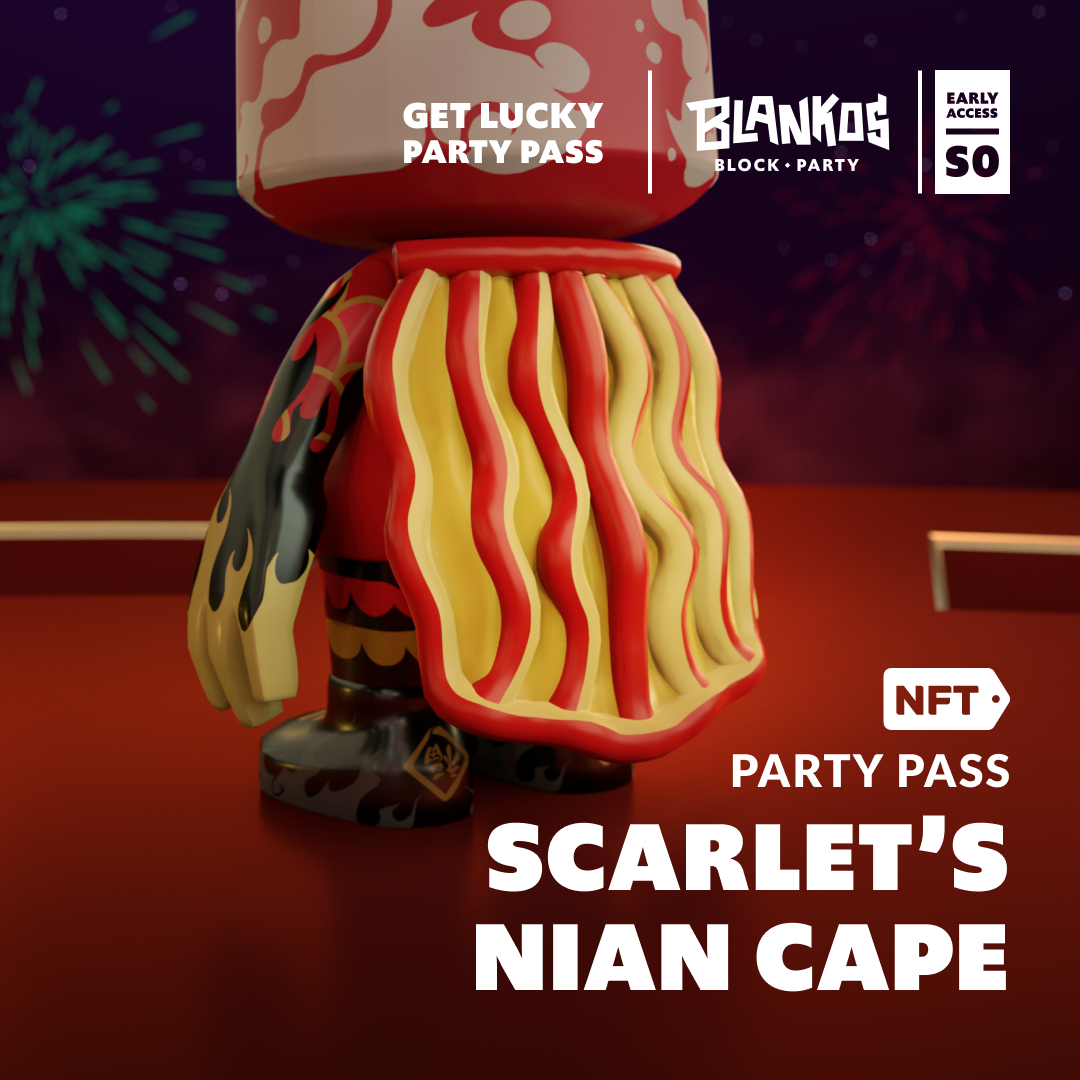 PARTY PASS+ TRACK REWARDS
The paid track features 5 new NFTs: 3 Accessories and 2 Blankos!
Tygra (3 Hype Points)
Jin's Lucky Koi Amulet (164 Hype Points)
Jin's Lucky Kicks (340 Hype Points)
The Grandmaster Rocket (430 Hype Points)
Grandmaster Jin (614 Hype Points)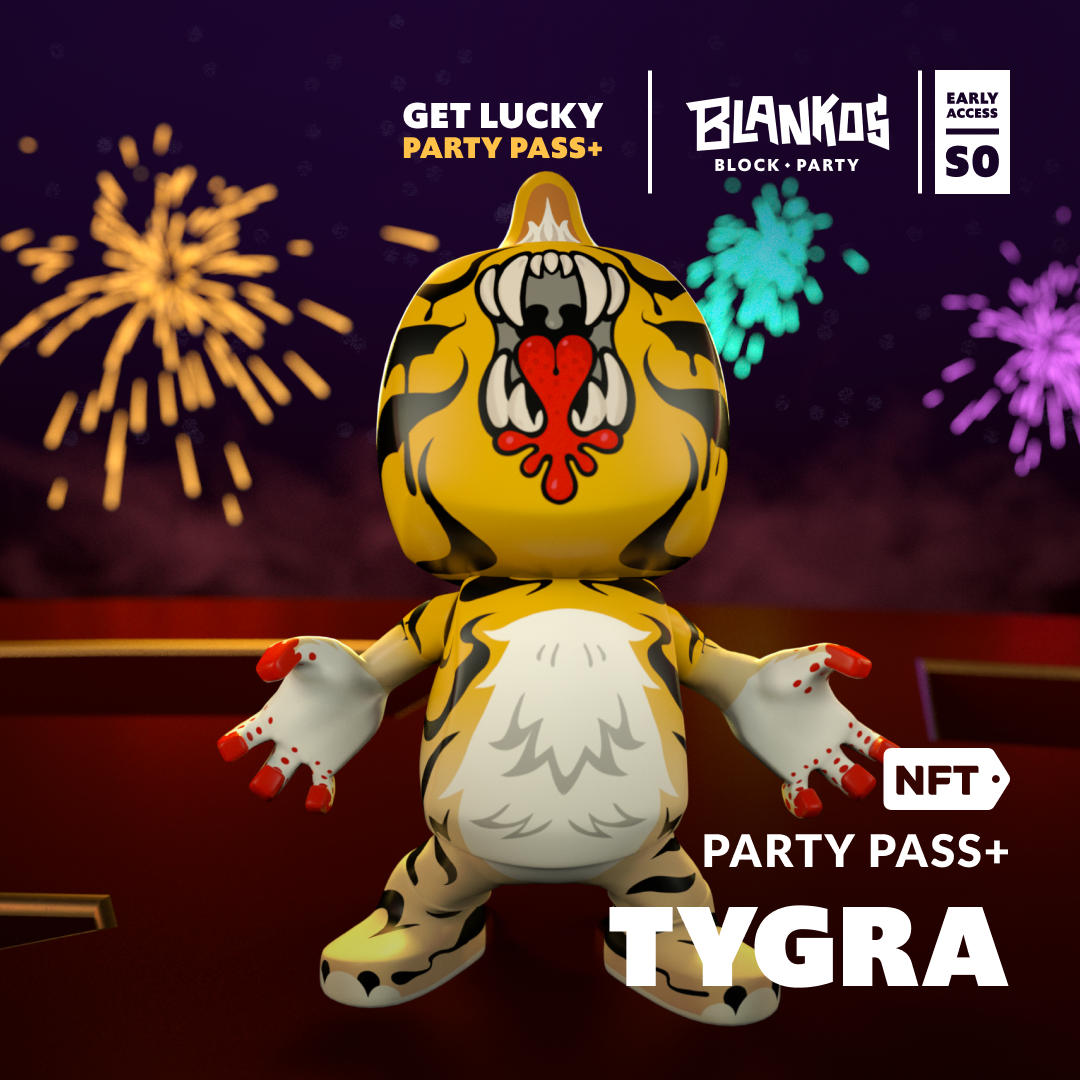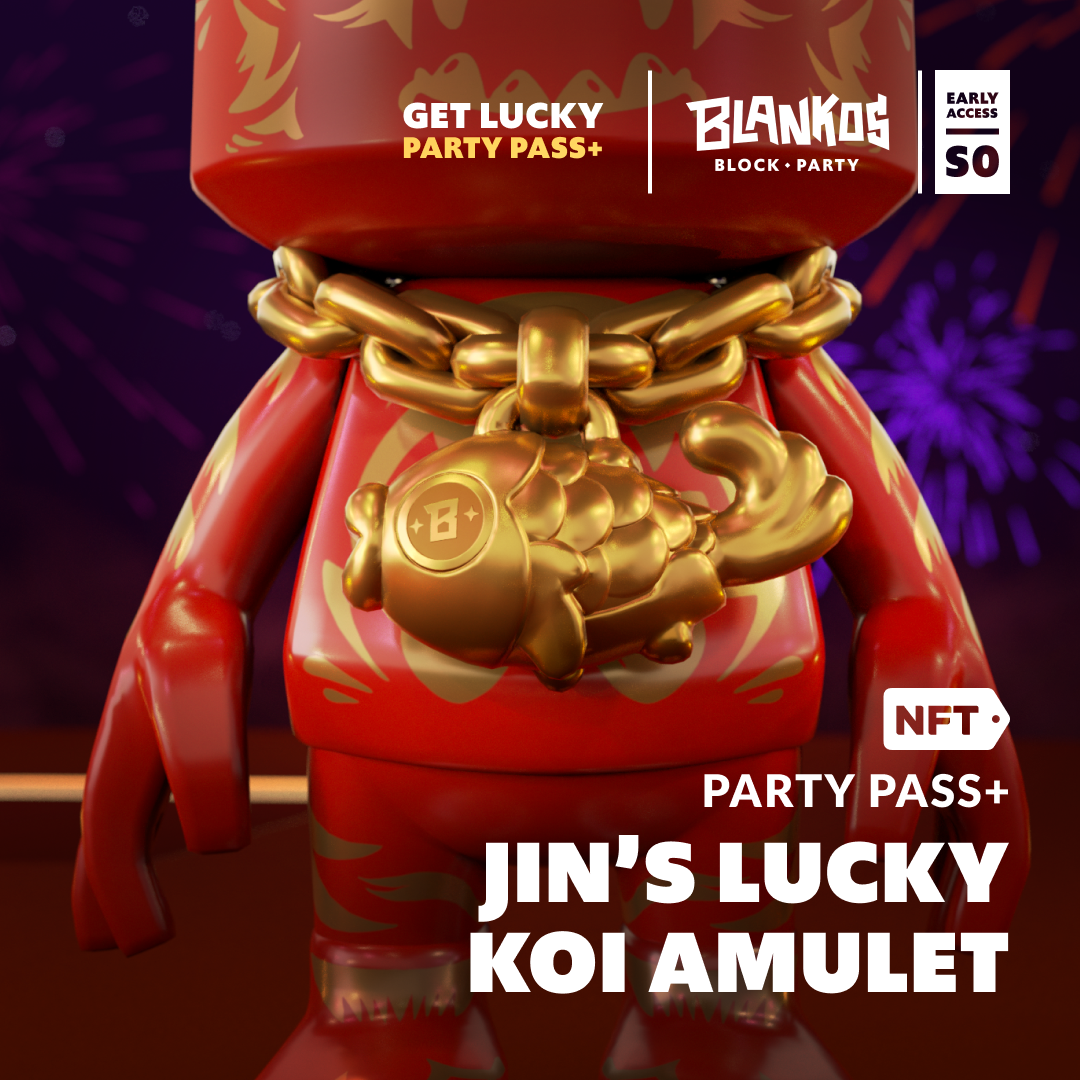 Best of LUCK to all of those working towards unlocking these NEW Blankos and Accessories!
---