ETH Bridge Beta Launches Feb 3
---
It's time to cross that BRIDGE into the future! Starting February 3rd, you will be able to withdraw a limited selection of Blankos off of the Mythical Chain and onto Ethereum using popular wallets like MetaMask. Once in your wallet, the Blanko will not be able to be played with in-game, but you will be able to list those Blankos on Ethereum NFT marketplaces to buy and sell. You can also deposit Blankos back to the Mythical Chain from Ethereum wallets to play with the NFT in-game or sell on the Mythical Marketplace. This exciting new feature allows Blankos to travel from wallet-to-wallet via popular Ethereum Marketplaces such as OpenSea, Rarible, and others.
The ETH Bridge is the next step in achieving our vision of true ownership of digital assets for our players. The bridge between the Mythical Chain and Ethereum allows more complete ownership of your digital collections. Phase 1 of the ETH Bridge Beta is going to be a milestone moment for how we think about the Blankos and Mythical ecosystem.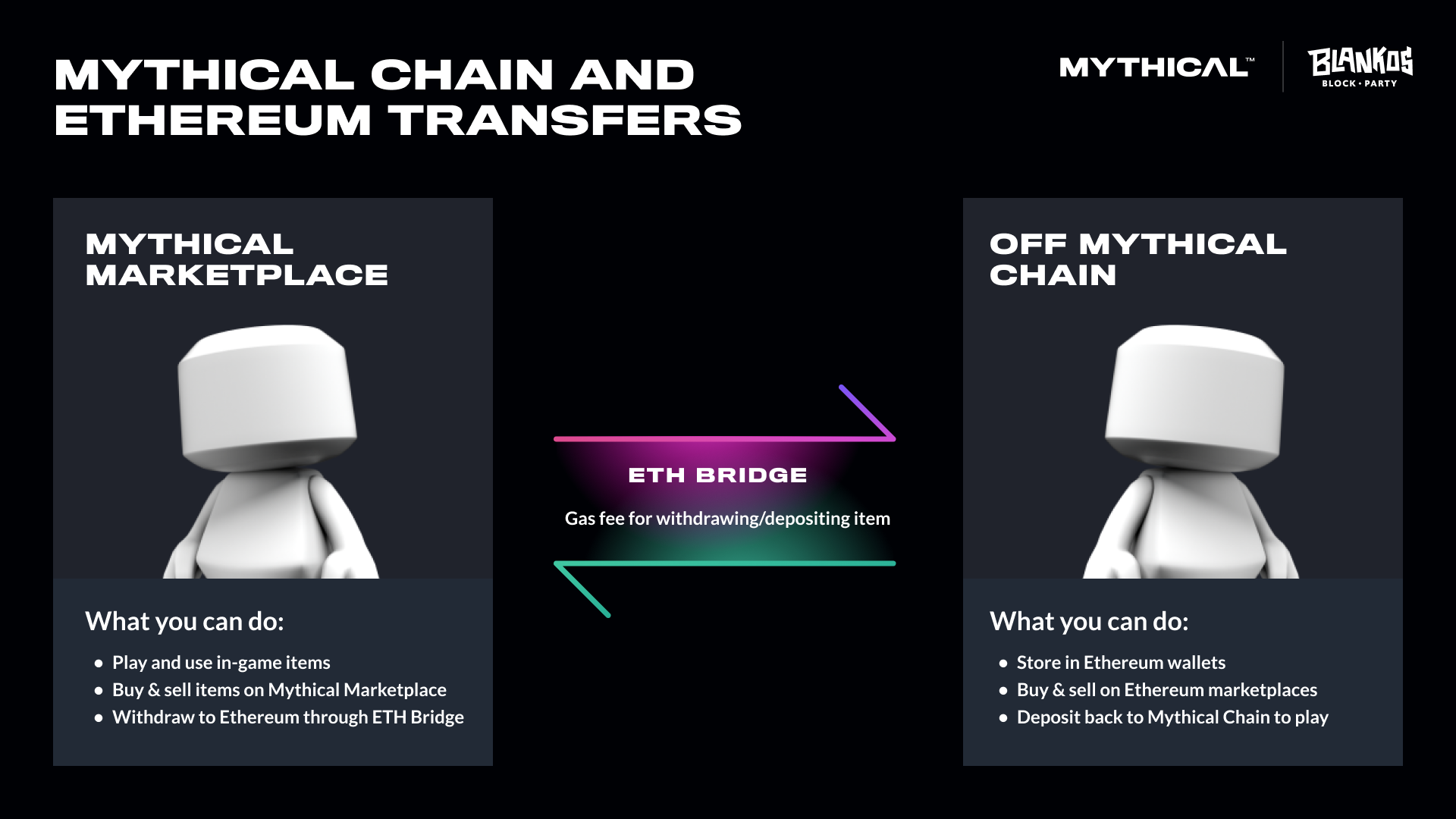 In Phase 1, starting Feb. 3, we'll be in a Beta state, meaning you'll see a limited selection of Blankos made available to withdraw. We are focused on security and stability first and foremost, so we will be rolling out the available Blankos over time as we test this feature, with the goal of eventually allowing more Blankos to be withdrawn. Additionally, Blankos that have been withdrawn from the Mythical Chain will not be able to be used in-game until they're returned to the Mythical chain via the deposit feature on the Mythical Marketplace.
List of available Blankos available for withdrawal Feb 3rd:
Billy Bones
Professor Meowingtons
Boss Dino
Space Girl
Peanut
TEQ63 [Ghost White]
During Beta, we will not be allowing Accessories to cross the bridge. However, during the official launch, we will be releasing a list of qualifying Accessories!
We'll add more Blankos to the approved withdraw list within the first week following Beta launch, and will continue to test to ensure that we make the process of transferring Blankos to and from mainnet as smooth and simple as possible for you.
Closer to the ETH Bridge Beta launch, we'll be providing detailed information on everything you need to know including:
Mythical's official Eth contract address to verify validity of an item
The details of withdrawing and depositing
Explanation of gas fees
You can find our FAQ here.
We're excited to finally bring you this exciting new feature that brings our ecosystem closer to a decentralized vision for Mythical.
---