Blankos x ILYYW Drop Guide
---
1)  Where do I find the Blankos X ILYYW drop?
2)  Which Blankos will be part of this drop and what price/qty are they at?
Lavamouth: 300 Qty @ 0.25ETH
Icebuddy : 500 Qty @ 0.15ETH
MudBoi: 1000 Qty @ 0.075ETH
All initial sales for the Blankos will be a 'Buy Now' listing and in ETH only.
GrassGnome : Airdropped as a free Blanko for the purchase of any of the aforementioned blankos by May 20, 2022 11:59pm PDTdeadline. A limited number is also available as part of community giveaways.
3)  What is the format of the drop?
All 3 Blankos, with all their mints, will be made available for sale at 3:00 PM PDT / 22:00 UTC on May 18th. The initial owner for these listings will be Blankos_Official (https://opensea.io/Blankos_Official )
Buying any of these 3 Blankos directly from Blankos_official (verified) by May 20, 2022 11:59pm PDT  will entitle the initial purchaser to a free GrassGnome Blanko.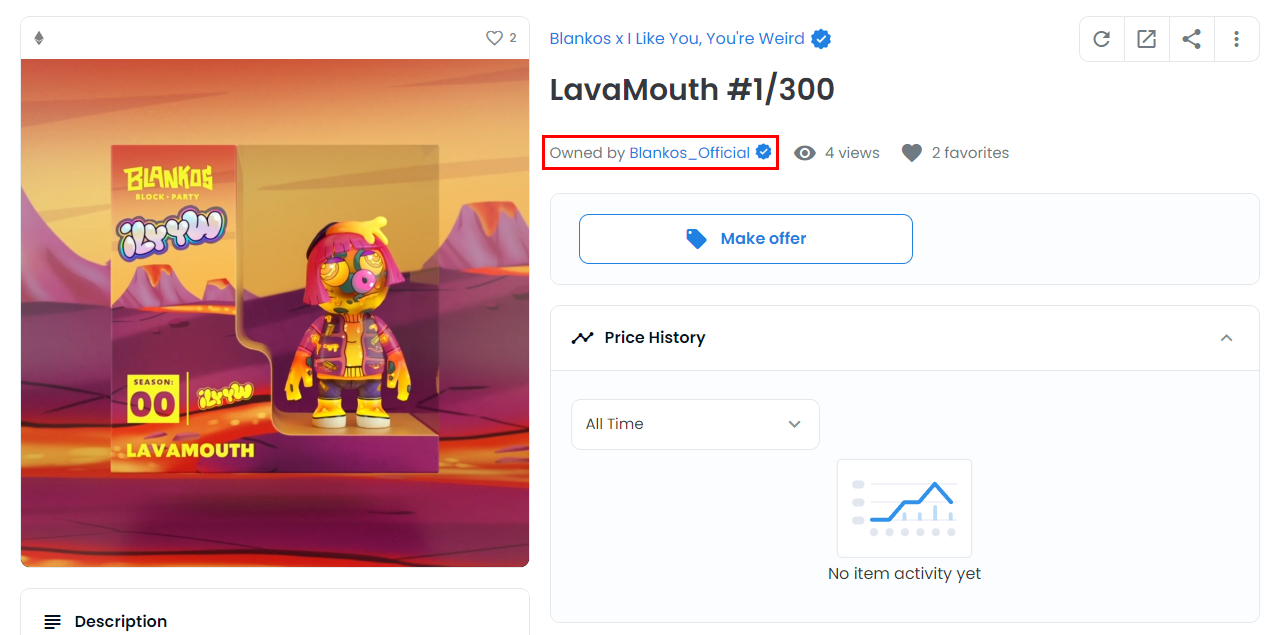 4)  Will the mint numbers be sequentially sold?
All mint numbers for all 3 blankos will be made available for sale at exactly the same time.
If you want to obtain a specific mint number, you will need to find the specific one in the collections page and buy it.
As the collection is already visible, it is possible for you to identify the specific mint you want and wait for the sale to start.
Caution: Racing for mints on mainnet is not guaranteed to be successful and it may result in gas fees being lost. We do not control gas fees and cannot help resolve it.
5)  How can I make a purchase on OpenSea?
Purchases on OpenSea can be done through a CryptoWallet like metamask or through fiat payments. Please see here for details:
https://support.opensea.io/hc/en-us/articles/360061676254-How-do-I-create-an-OpenSea-account-
https://support.opensea.io/hc/en-us/articles/1500007978402-What-crypto-wallets-can-I-use-with-OpenSea-
6)  How can I get a guaranteed GrassGnome (the 4th Blanko) ?
Purchasing any of the 3 aforementioned blankos from Blankos_Official (verified) directly by May 20, 2022 at 11:59pm PDT,  will make you eligible for the airdrop of the GrassGnome Blanko.
7)  How and when will I receive GrassGnome if I am eligible based on purchase criteria?
You will receive one GrassGnome for each eligible Blanko purchase. For e.g. If you made the 3 eligible purchases, you are eligible for 3 GrassGnomes.
GrassGnome will be airdropped to the Wallet that you made the purchase from. Reminder, Purchase needs to be made directly from Blankos_Official (verified) by  May 20, 2022 at 11:59pm PDT.
The airdrops will be done between June 1, 2022 to June 7, 2022.
8)  What will be the mint number of the GrassGnome, if I am eligible?
GrassGnome mints will be randomized and awarded. For eligible purchases GrassGnome will range from #1 to #1800.
9)  How can I get a GrassGnome without making an eligible purchase? You can participate in the giveaways held across Blankos and ILYYW communities for a chance to obtain a GrassGnome. Details of this can be found here: https://news.mythicalgames.com/ilyyw-x-blankos-drops-may-18th.
10)  I purchased a Blanko on OpenSea, how can I now use it in-game?
You will need to create an account on Blankos.com and install the game.
To use your Blanko from OpenSea in the game, you will need to first bridge/deposit the Blanko from OpenSea/mainnet into the Mythical chain. Here is how to do it:
Once you have deposited, you can launch the game and find the Blanko on your in-game shelf.
11)  Do I have to pay Gas fees to use your mainnet Blanko in-game?
Moving the Blanko from the mainnet to the mythical chain is a transaction on mainnet and will incur gas fees.
12)  Will the ILYYW blankos also drop on Mythical Marketplace?
This is an exclusive OpenSea drop and therefore these will be available for purchase only through OpenSea.
It is possible that some purchasers from OpenSea may bridge their Blankos to the Mythical chain and list them for secondary sale on the Mythical Marketplace.
---